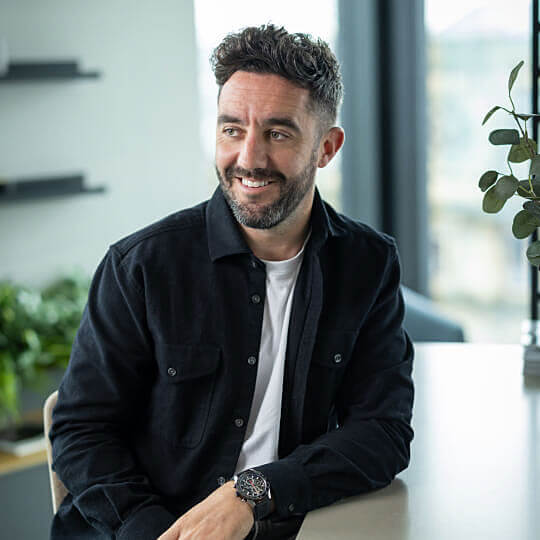 By Chris Penketh
Sales Director
Published
6th March 2019
Category
Blogs
The short answer to this question is:
Yes, workspace design and company culture are intrinsically connected, and physical environment and cultural context have a huge impact on each other.
However, in true Penketh Group form, we want to share the research, insights and knowledge which has led us to this unanimous conclusion.
First, let's start with a short history lesson…
The story of Jonas Salk
You might recognise Jonas Salk's name as being the brains behind one of the very first successful vaccines for polio. You might also be wondering what on earth that has to do with commercial interior design…
Let us explain:
During the late 1940s and early 1950s, Salk spent many years in a laboratory at the University of Pittsburgh, trying to develop a cure for polio. He worked 16-hour days, 7 days a week in this confined environment to no avail.
Eventually, he decided enough was enough and escaped to a beautiful monastery in the quiet Italian hills where there was an abundance of natural light, expansive rooms and inspiring artwork and architecture.
It was here that Salk ended up having a breakthrough in his research and producing a vaccination that has since eradicated the deadly disease from nearly every nation across the globe.
Salk famously accredits this shift in productivity and innovation to a change of surroundings and a more inspiring environment.
How interior design effects workplace behaviours
What the Jonas Salk analogy proves is that a person's physical surroundings have a significant impact on their ability to perform and their attitude in a given situation.

For example:
If you want your workforce to think openly, share creative ideas, collaborate with each other, communicate freely and embrace experimentation, you need to provide the right environment in which to do so.
This might include:
A purpose-built collaboration setting with a large table to gather around
Technology which makes mutual participation easier (SMARTBoards, touchscreens etc)
Access to plenty of natural light to encourage free and open thought
A range of different seating solutions to suit different working styles and postures
Glass partition walls to foster cultural transparency – a 2019 interior design trend identified by our specialists
Another example:
If one of your company values focuses on the wellbeing of your staff and nurturing a workforce that is happy, healthy and able to be themselves, this should be considered within the design process.
We would recommend:
Resimerical design elements which make the office feel like a home from home
Biophilic features which have been proven to lower stress levels and boost immunity
Plenty of privacy to accommodate introvert personalities
Collaboration spaces for extroverts to bounce off each other dynamically
Social spaces where staff can bond and rejuvenate effectively
Habits and habitats
This correlation between environment and performance highlighted by Jonas Salk is no different in today's working world, where habitats are instrumental in shaping habits.
Within the interior design and office fit out industry, a common responses when evaluating a project after it has been used for a short amount of time post-completion goes something along the lines of:
"We love our new workspace and the furniture is everything we wanted but the staff just aren't using it in the right way. They're not working in an agile way even though the facilities are there!"
This is because the habitat is correct but the habits across the business are not.

This further proves our theory that both workspace design and workplace culture need to be working in tandem in order to create the ideal working environment.
88% of employees believe a distinct workplace culture is important to business success*
Although companies will always have an overarching culture, there will also a number of subcultures operating within its parameters.
Finance and marketing departments are a classic example of this…
While they are both part of the same company and overall culture, each department will operate in a different way and therefore have different requirements for the space.

For example, a marketing department might need collaborative technology, adaptable furniture and breakout spaces for brainstorming and idea-sharing.
On the other hand, a finance department might require more shielded areas for privacy and confidentiality, as well as additional acoustic solutions to reduce noise and aid concentration.
This is where neighbourhoods and microenvironments come in to provide a variety of facilities and environments within one interconnected ecosystem of multifunctional workspaces.
To conclude:
Marrying design and culture is about more than just communicating brand identity effectively.
It's about consolidating your company values and then using this to inform the look and feel of your workspace.
This will be a totally bespoke process, which will determine whether the issues need addressing at the structural office fit out stage or a more cosmetic design refurbishment and furniture refresh. Whichever it may be, we always recommend partnering with an expert to attain the best possible results.
*Deloitte