By Georgie Lever
Interior Designer
Published
30th August 2022
Category
Insights
According to recent statistics released by Green Building Council, the built environment is accountable for almost 40% of global carbon emissions. Around 11% of that is a direct result of carbon emissions produced in the extraction, transportation, manufacture, and installation of materials used to build, fit out and furnish spaces.
It's clear to see that, as an industry, we need to be doing more to prevent climate change and to make our practices more sustainable. In this blog post, we shine the spotlight on five eco trends and take a closer look at what's hot in the world of sustainable office design, now and moving forward.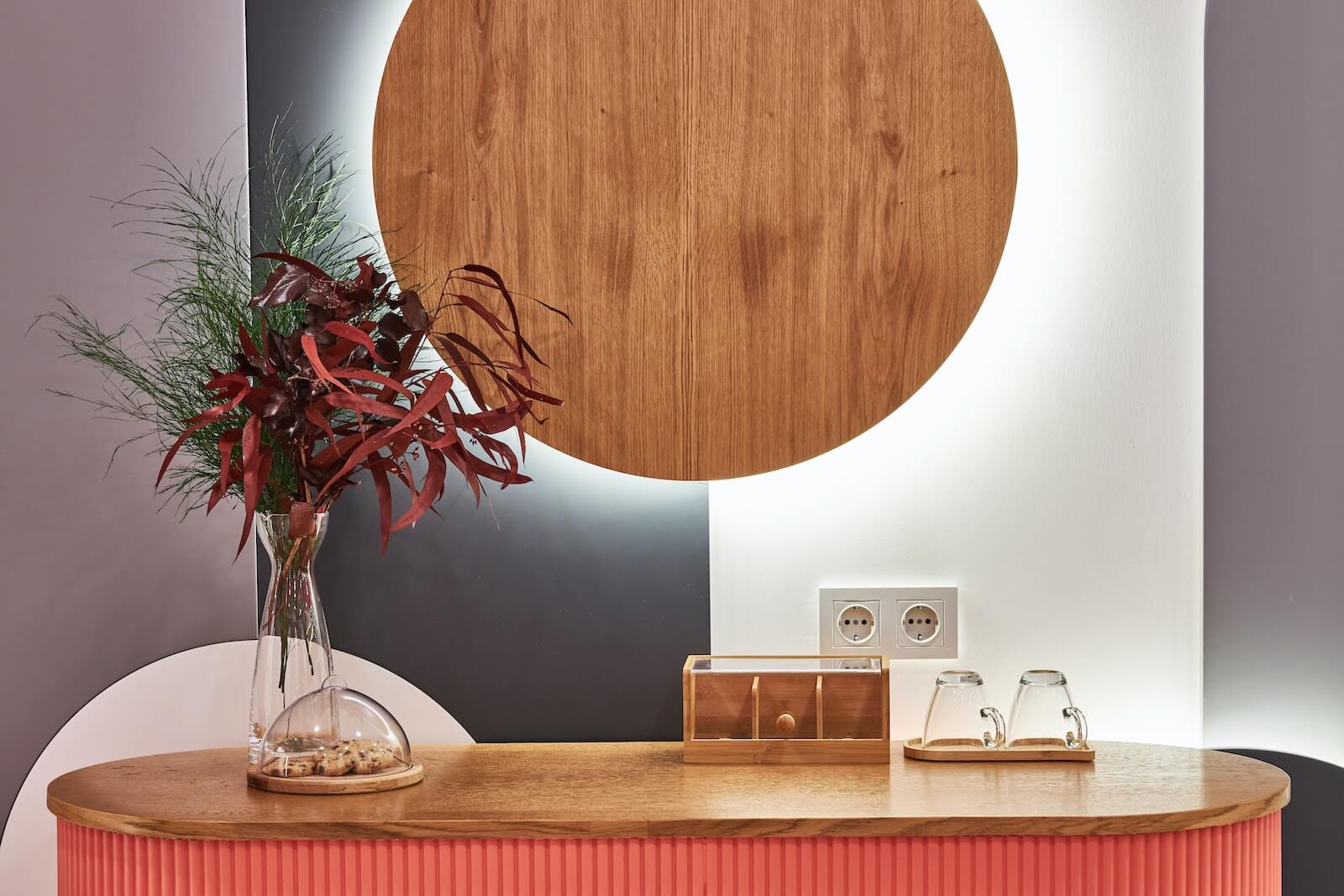 Eco-friendly office design trends for 2022, 2023 and beyond
As we move into the second half of the year, our experts have their eyes peeled for upcoming trends so that they can make their predictions on what will steer office interior design in the coming year. Here, we hone in on sustainability trends specifically.
Below are four focus trends to help make your next workspace transformation more sustainable:
1. Utilising eco-friendly fabrics and materials
Moving towards more responsible manufacturing through eco-friendly fabrics and materials isn't a new initiative. However, it's something that is gaining more and more traction in the commercial interior design world.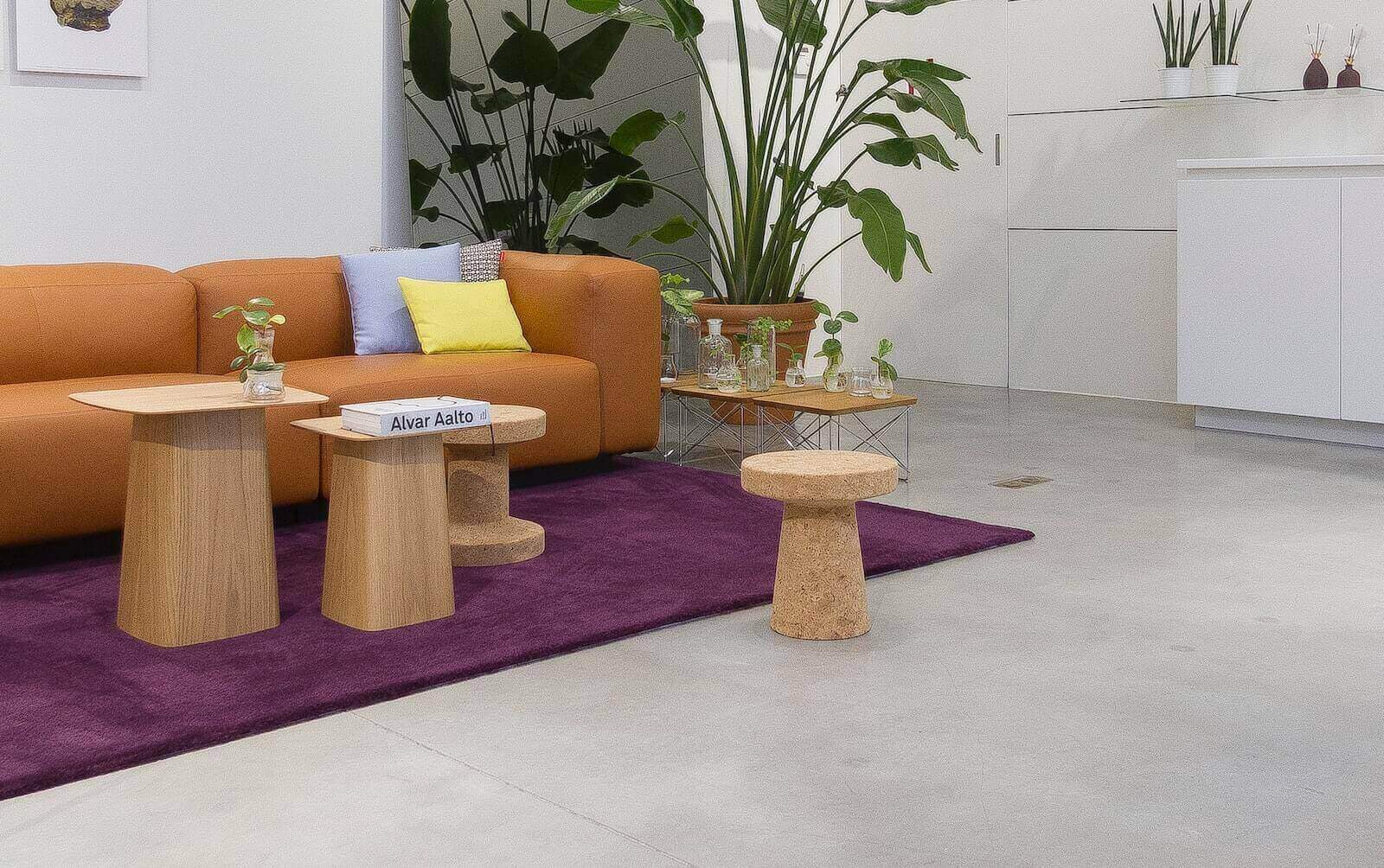 We've spoken before about the benefits of bamboo in office design—an example of a bio-based material that consumes far less energy than others to produce. Not only that, but bio-based materials also have the potential to capture and retain carbon via photosynthesis, helping to reduce carbon emissions significantly.
Straw and wood are other great examples of bio-based materials—but it's no longer just about the materials themselves. In order to make sure that you're utilising materials that are truly sustainable, you need to look at the lifecycle of the product too.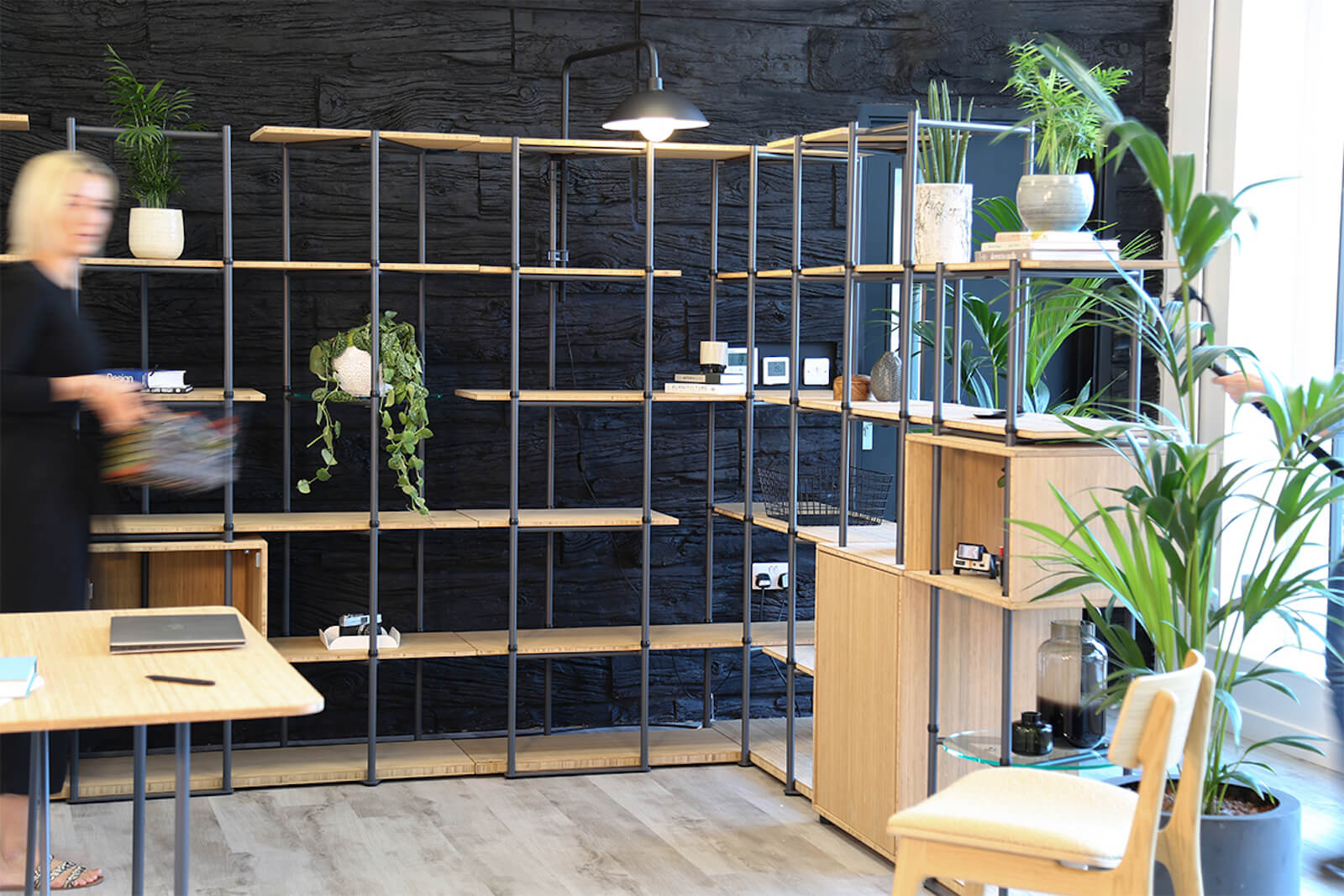 For example, if the wood you choose to make your office storage out of has required a huge volume of carbon dioxide to log, transport and manufacture, this isn't necessarily the most sustainable option.
It's all about looking more closely at the full lifecycle of fabrics and materials to make sure you're making the most responsible choices where possible.
Great examples of bio-based fabrics and materials to lean on as we move towards a more sustainable future are:
Recycled steel
Cork
Bamboo
Straw
Recycled plastic
Sheep's wool
Recycled rubber
Clay brick
Hemp
Organic cotton
So, next time you're considering an office redesign or refurbishment, consider swapping traditional, less eco-conscious materials out for any of the above. Although, it's worth noting that this short list is by no means exhaustive so speak to your design partner for more guidance around fabrics and finishes.
2. Natural light and circadian lighting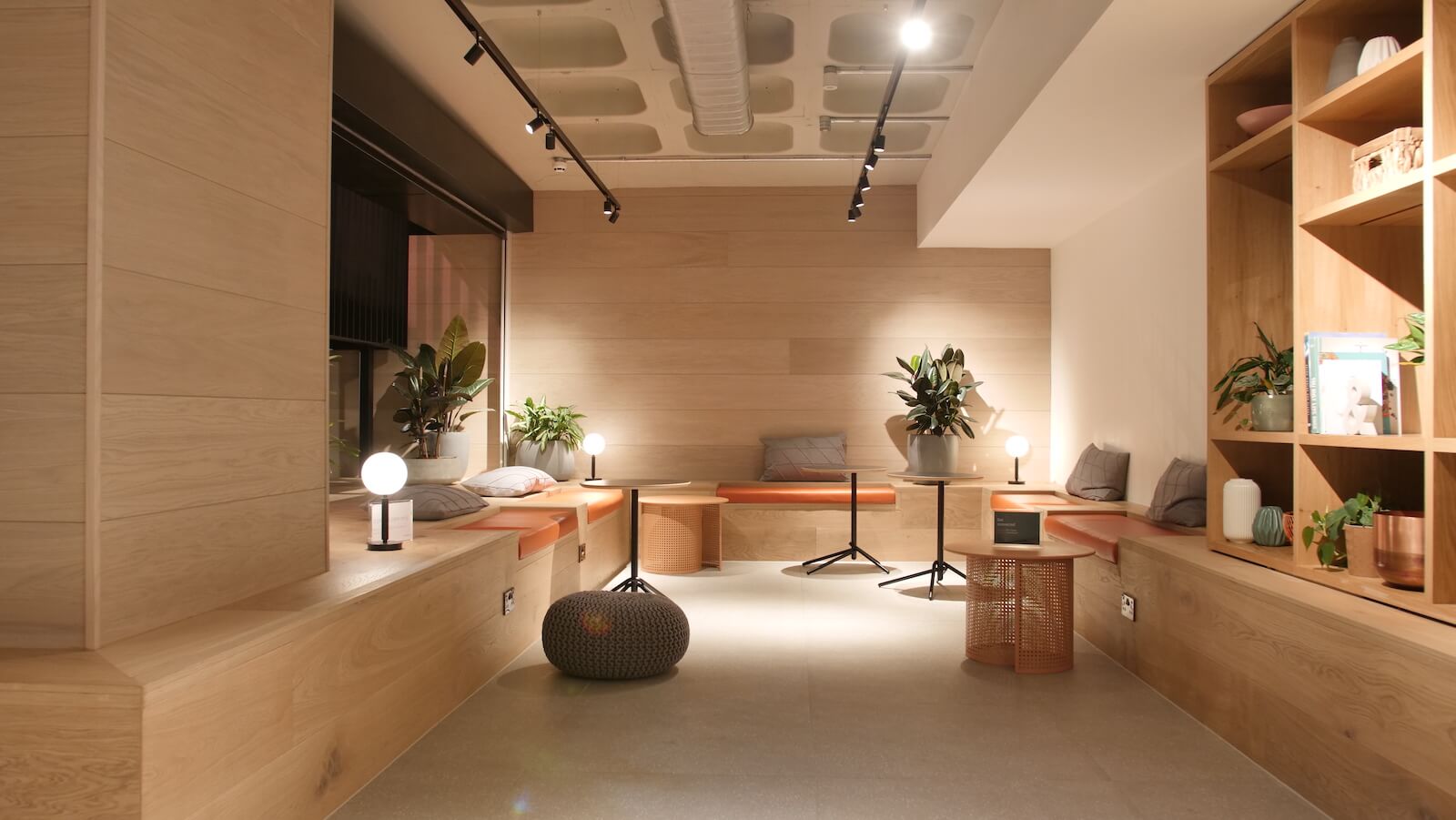 Biophilic design isn't headlining news. It's something that has been trailblazing more sustainable office design and fit out for a number of years now, with the benefits of things like indoor plants and natural materials widely cited.
The benefits of things like exposed concrete and wood are even well-covered ground at this point as people begin to further understand how biomimicry boosts wellbeing, productivity and of course, sustainability.
However, what is less commonly discussed but gaining momentum as an upcoming trend in sustainable office design is the use of natural light and more specifically, circadian lighting.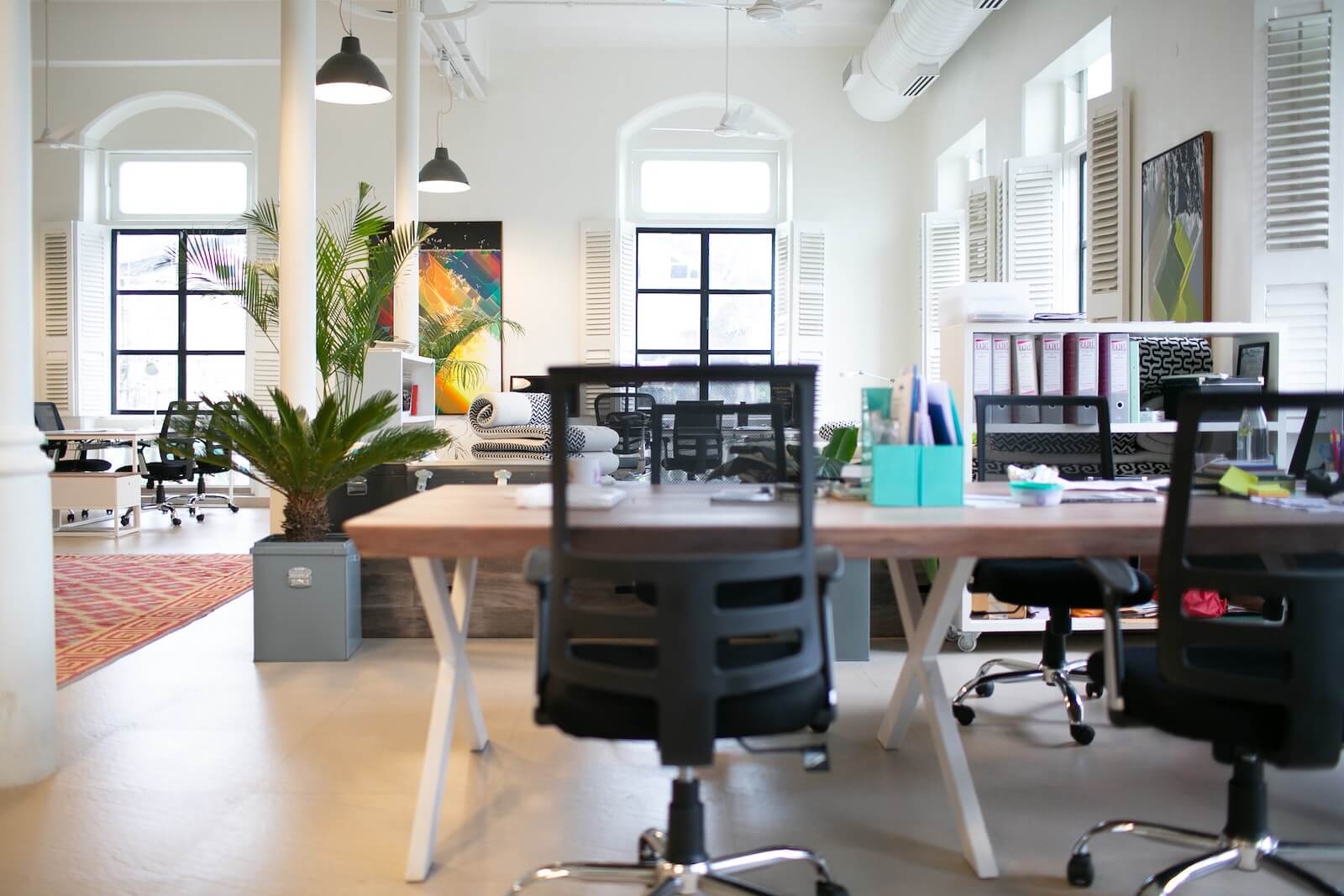 Circadian light moves the human circadian rhythm, which enables us to react naturally to the transition from day to night and vice versa through light. Trends are moving towards recreating this through the electrical light used in workspaces, alongside capitalising on as much natural light as possible.
In practice, this means letting as much natural light in as you can but supplementing this with specialist light that mimics the circadian cycle of cool light during the early day and warm light later on in the day.
Read more: why mood lighting isn't just for hospitality >
3. Working with suppliers that support a circular economy
Supporting a circular economy links back to what we were saying earlier about focusing more steadfastly on the full lifecycle of a product in order to reduce workplace waste.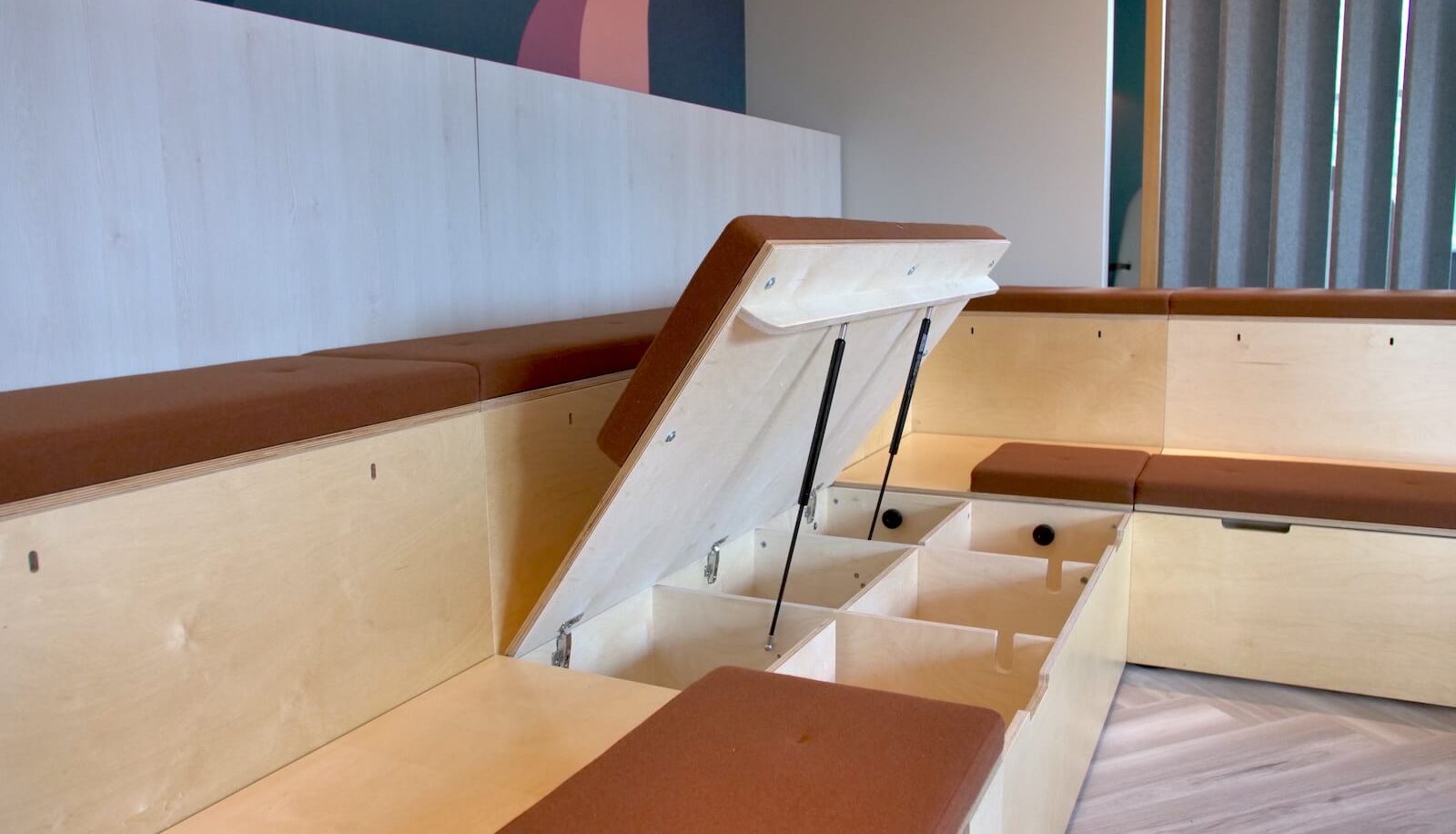 There are many ways in which the manufacturers, suppliers and partners you work with can help you to support a circular economy. One of the ways in which we're doing so at Penketh Group is by introducing our Assess, Reuse, Reupholster & Recycle service.
This service means we're able to take our clients through the following four-step process to help make their office refurb or fit out project more sustainable:
Assess – Our specialists audit your existing furniture portfolio to see if there are any items that fall under the following categories…
Reuse – Existing furniture items that can be stored and then reinstalled as part of your new design/fit out scheme.
Reupholster – Existing furniture that is suitable for reuse or recycling but needs a little TLC and repair before then. Our experts are on hand to do this in-house at the Penketh Group workshop.
Recycle – Unwanted furniture items that can be recycled elsewhere or resold to other users to save them from ending up in landfill as waste.
Find out more about our Assess, Reuse, Reupholster & Recycle service >
4. 3D-printed office accessories
Although this one won't be accessible to all budgets or appropriate for all office design projects, 3D-printed workplace accessories are on the rise.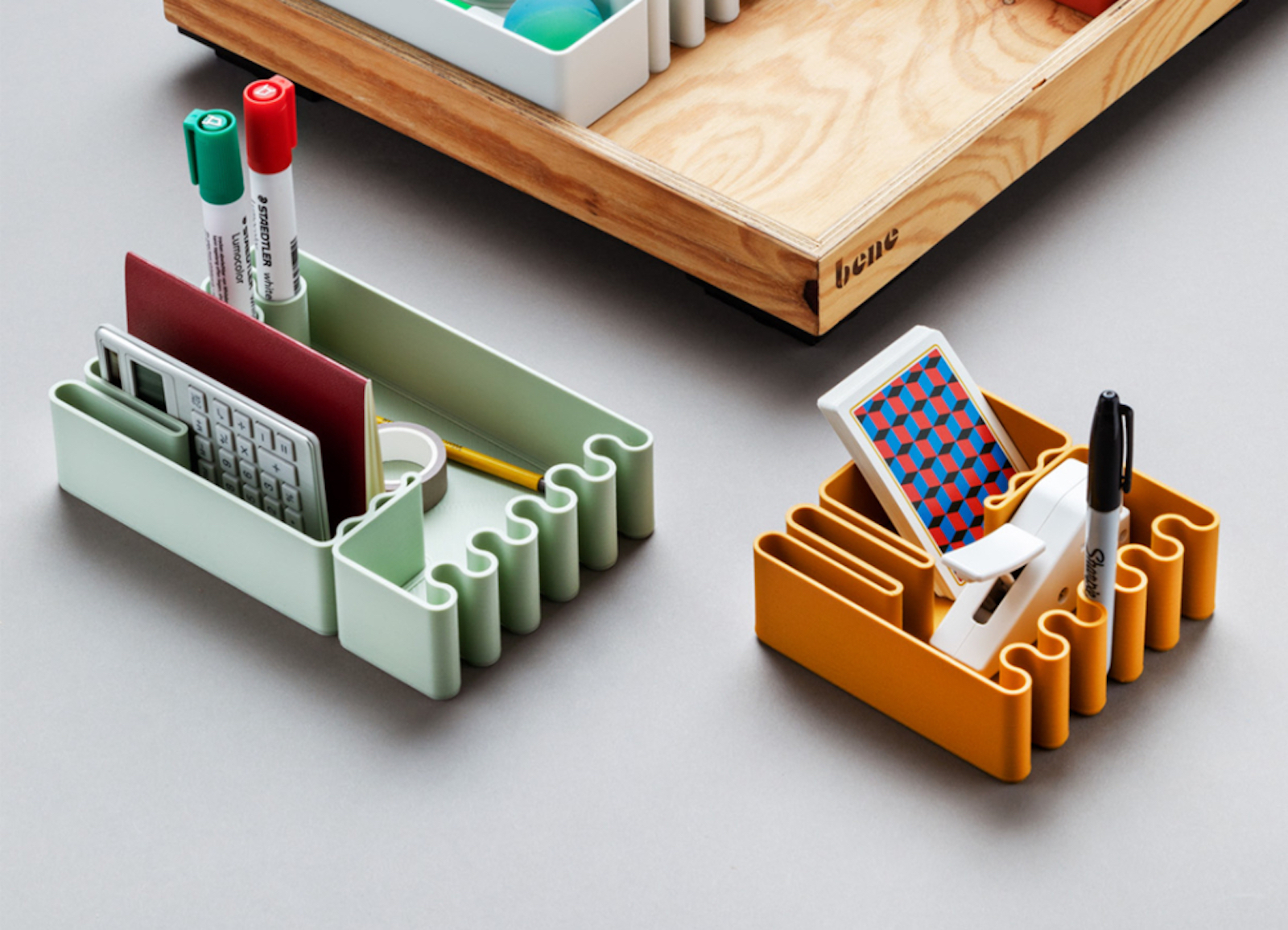 More and more products are being 3D-printed via CAD and in the process, significantly reducing waste and lowering the carbon generated through traditional manufacturing and transportation processes. 
Bene is one of the manufacturers leading the way where 3D-printed desk accessories are concerned. They joined forces with Pearson Lloyd and Batch.Works to create a collection of 3D-printed desktop products made from recycled bioplastic derived from waste food packaging. 
As we said, 3D products aren't going to be for everyone just yet but if you fancy making the switch, it's another great way to give your office design project more sustainability credentials.