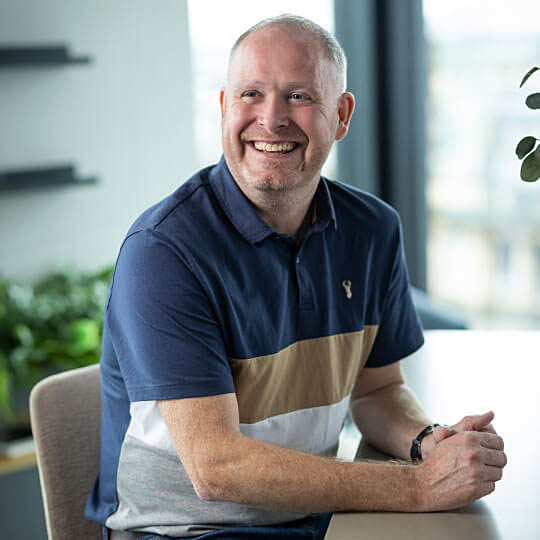 By Rob Wright
Project & Logistics Manager
Published
5th February 2020
Category
Blogs
Office fit out companies are a dime a dozen not only in Manchester and Liverpool where our Penketh Group HQs are based but throughout the whole country. This means, that when you're looking for professionals to enlist as part of your project, you can be left feeling a little befuddled or spoilt for choice.
Any commercial fit out or workspace transformation project, no matter what level or specification, will require a significant investment of time, money and energy. For this reason, it's absolutely essential that you do your research and sniff out the best office fit out contractors from the very beginning.
We can help you separate the good from the bad or the ugly but first, let's look at what you really want to be seeking out a fit out specialist for…

What do office fit out companies offer?
Office fit out is the process by which an interior space is made suitable for occupation and is different to the design and furnishing process. Fit out comes in three main categories: Shell & Core, CAT A and CAT B, although recently, a new category has emerged going by the name of CAT A+.
In some cases, the fit out phase is completed by a different company or contractor to the interior design and furnishing. However, many office fit out companies today offer a full service which integrate both processes.
Fit out generally encompasses (but isn't exclusive to):
Raised flooring
Partitions
Air conditioning systems
Toilets
Beams and pillars
Suspended ceilings
Fitted elements (e.g. storage)
Space configuration
Some elements of furniture installation

Signs you've found a great commercial fit out company:
You know you've stumbled across a good one when…
They start by listening and learning about your company
All of the best office fit out companies begin the process by getting to know you and your business like the back of their hand.
Be it through meetings, workshops or brainstorming sessions, look out for a specialist who wants to know how your business works, your current workplace issues and your aspirations for the future in intimate detail.

They put the requirements of your business first  
You want the human-centric, customer-focused approach mentioned above to continue throughout the entire project too.
Partner with a company who makes the improvement and future-proofing of your workplace the focus of the project– not just an opportunity for them to assert their design preference, signature style, desired price model or chosen manufacturers.
They're respectful of your project budget
As well as being attentive to your requirements and aspirations, office fit out companies should always keep any restrictions around budget in mind. Office fit out costs can quickly escalate if this isn't the case.
A good partner will be able to assign the right contractors, approach the right suppliers and negotiate with the appropriate manufacturers to ensure you can comfortably afford what they are offering you.

They can talk fluently about industry trends
As you would expect with any specialist in their field, any company offering office fit out services should be well versed in current industry trends, news, knowledge and research. They should then use this to positively influence the project throughout various phases of the operation, such as interior design themes, technology and furniture selection.
They offer value added services
A true specialist will become a partner beyond the initial project and demonstrate this by offering additional services or benefits, such as:
Full project management
Aftercare and support
Help relocating staff or furniture if required
Out of hours work to minimise disruption during fit out
Support in disposing of unwanted furniture responsibly

They have relationships with reputable office fit out contractors and suppliers
One of the benefits of working with a fit out partner is their existing relationships with manufacturers and suppliers. These allow you to get the best prices and lead times to ensure your project is delivered on time and within budget. The calibre of contacts a company has is demonstrative of their reputation and offering.
Office fit out contractors to avoid – the warning signs:
We'll keep this bit short and sweet and not dwell too much on the negatives now you know what you should be looking out for but here are some red flags you'll want to be wary of when hunting for any office fit out services…
The costs just don't seem to add up – Does your quote seem too astronomically high to be true? Well then it most probably is. If you're feeling suspicious, shop around before signing on any dotted lines.

They aren't getting very good reviews – In the same way you would for a restaurant or hairdresser, check out what previous customers are saying online. You won't get a more honest review than that.
They can't demonstrate a catalogue of past work – Before contacting a company, have a snoop around on their website to see if they've documented any recent projects or past work. We like to refresh our case studies as much as possible to give people a good idea of what we can offer.
They make you feel frustrated or confused – Steer clear of any company which makes you feel stressed or in the dark. A good partner will put you at ease, maintain open lines of communication and involve you at all necessary steps along the way.

Looking for office fit out companies in Manchester or Liverpool?
Another thing to keep an eye out for when looking for the perfect partner is experience and longevity.
We've been in the industry for more than 45 years, which mean our teams of experts have plenty of experience under their belts – just one of the reasons Penketh Group have become one of the  most trusted office fit out companies in the North West.
Feel free to pop into our Manchester showroom or Wirral (near Liverpool) office for a look around or a chat about your upcoming project.