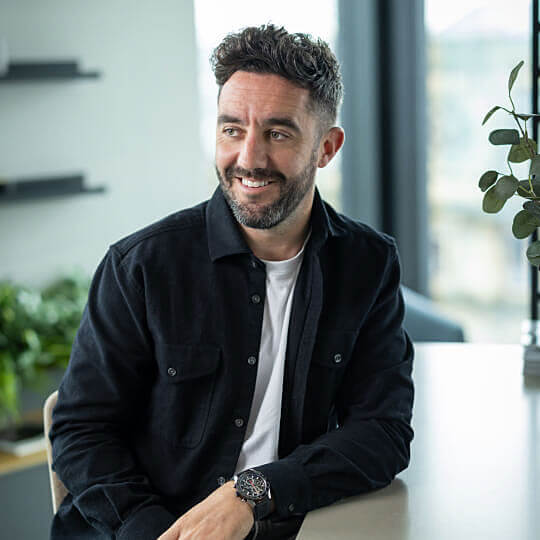 By Chris Penketh
Sales Director
Published
13th January 2020
Category
Blogs
London-based company, Peldon Rose have identified a 25% increase in CAT A commercial fit out projects over the past two years, down South. As we enter a new year and fresh trends for 2020 begin to emerge, we're wondering if a similar pattern will be followed up North…

As one of the leading office interiors, fit out and refurbishment companies in Manchester, Liverpool and across the North West, we make it our mission to stay ahead of the curve.
In this blog post, we'll be answering the following questions:
What is a CAT A fit out?
What does CAT A+ fit out mean?
What are the benefits of this type of workplace fit out?
So, if any of these are something you're keen to know more about for your next project, just keep scrolling…

What is CAT A office fit out?
We've spoken before about the difference between office fit out and refurbishment but drilling down even further than that, each various stage of the fit out process has its own unique features.
CAT A sits in between Shell & Core (the bare foundations of a building) and CAT B (the finished product). It provides a basic level of finish which delivers an operational space which can then be personalised with conceptual designs.
The space will be functional and ready to use but still allow for workspace customisation through things like colour, branding, furniture, space configuration and decor.

CAT A generally encompasses elements like:
Raised access flooring
Partition walls
Fitted storage
Suspended ceilings
Beams and pillars
Air conditioning systems
Toilets
Surface finishes
(Click for more on the difference between CAT A and CAT B fit out)
What is CAT A+ workplace fit out?
A new concept which has been emerging in the industry in recent months is the concept of CAT A+ fit out, which slots in between CAT A and CAT B to provide another level of completion in response to the modern market.

It elaborates on CAT A to deliver more ready-to-go elements such as internet connection and basic furniture so that people can move in straight away but still have the creative freedom to work on the space and apply their own stamp or branding.
This option is ideal for small businesses who can't afford the financial commitments of a full refurbishment but still want to be able to make the space their own or easily adapt to the needs of those using it.
So, why has CAT A fit out become so popular that it has branched out into additional levels of finish?

Why have CAT A and CAT A+ projects become more popular?
The growing popularity of CAT A and CAT A+ are largely down to a shift in attitudes, behaviours and the requirements which come as a result of it.
People are working more flexibly, more inclusively and more nomadically than ever before; workers are no longer tethered to a desk and businesses no longer see the appeal in long leases with workspaces that might not suit them further down the line.
The solution? An adaptable middle ground that requires neither total commitment nor complete transformation.

The benefits…?
Increased flexibility – Flexibility and adaptability are vital in future-proofing any business and being able to more easily move from workspace to workspace to accommodate things like growth or improved location is very appealing for most modern companies.
It's quicker and easier (in many cases) – Even when you run an office refurbishment project on a budget, it can still be quite a cost. Being able to move into a space which is already operational, with basic amenities already in place, is a great way to save time and money.
Refurb rather than relocate – Opting for CAT A over the finished CAT B product gives business owners the chance to transform their existing space, rather than having to move to a new premises in order to make any significant alterations such as introducing new types of work settings.

Spaces are more customisable – We've spoken before about how workspace design can improve brand and company culture and the customisation opportunities offered by a CAT A finish enables occupants to express and influence this more freely.
A variety of different furniture, technology and work settings – As well as bolstering brand identity and company culture, the added personalisation benefits offered by CAT A fit out also means you can adapt the furniture, technology and types of working environments you are able to offer.
For example, if you find your workforce is struggling to concentrate or focus on solo tasks, you will be able to introduce a privacy booth or acoustic pod to help alleviate the problem.