By Georgie Lever
Interior Designer
Published
13th June 2022
Category
Blogs
We're now starting to see, more than ever, just how effective more flexibility in the workplace can be. This includes physical flexibility, as the tangible workspace becomes a more agile environment, as well as cultural flexibility as companies start adopting more modern attitudes and practices.
However, the introduction of fresh perspectives and behavior shouldn't always necessarily catalyse the overruling of tradition – something that our experts believe rings particularly true when it comes to office design and fit out.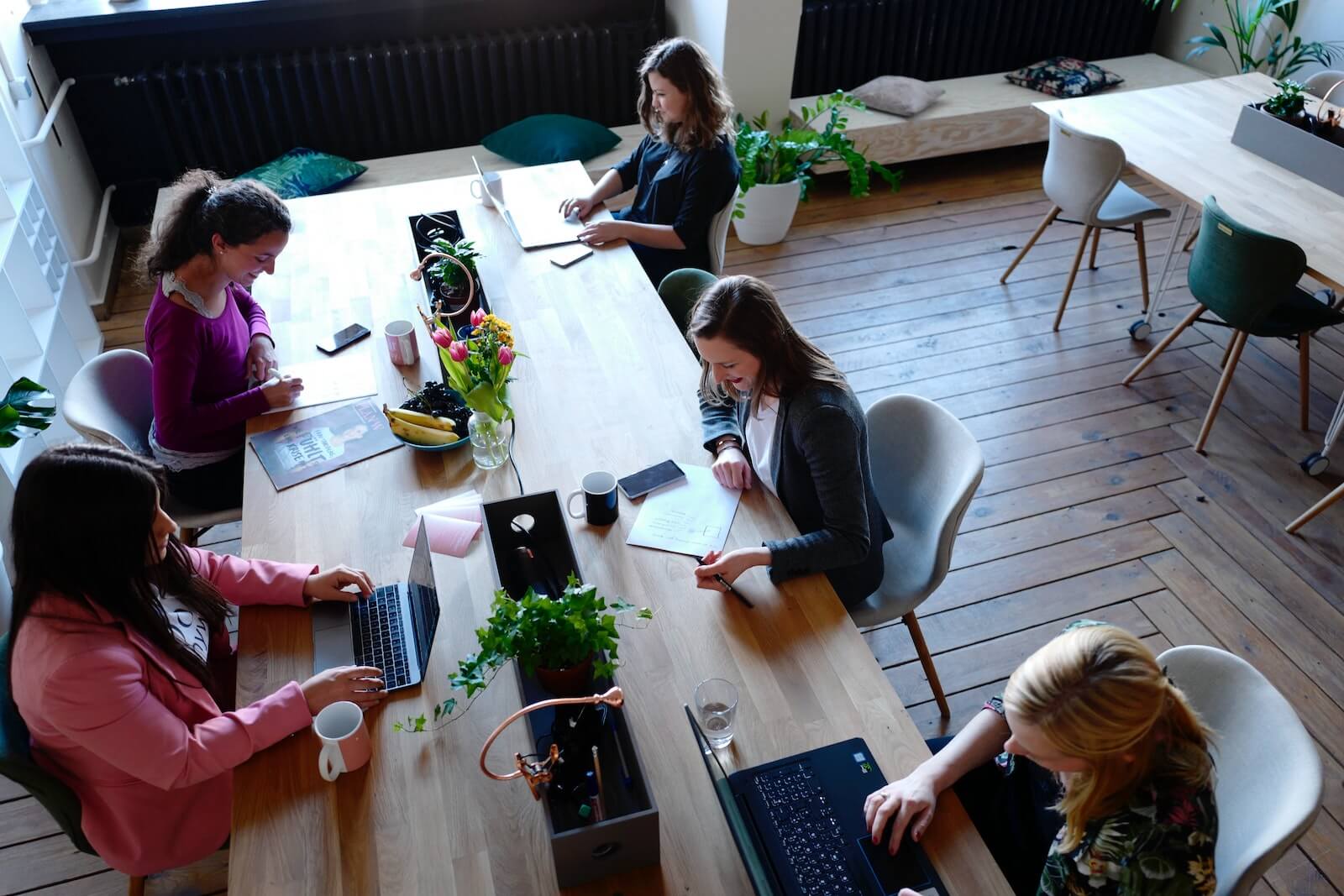 The New Era of Hybrid Work
In this article, we break down three key findings from Steelcase's The New Era of Hybrid Work global report to explore why we believe there is plenty of room for both tradition and progression in modern workspace design. We highlight why it's so crucial to not only take new knowledge onboard and embrace new ways of working (and designing) but to also retain and nurture what was already effective.
Through our exploration, we also demonstrate why it's so important for employers to ask about and listen to what their employees actually want, rather than just implementing workplace cultural practices or design refurbishments they think they should be adhering to.
The key Steelcase findings we'll be putting under the spotlight here are:
The significant impact liking where they work has on employee productivity, retention, cultural connection and engagement.
How employees would actually prefer more assigned workspaces over more remote working days.
How employees are prioritising privacy in the workplace now more than ever.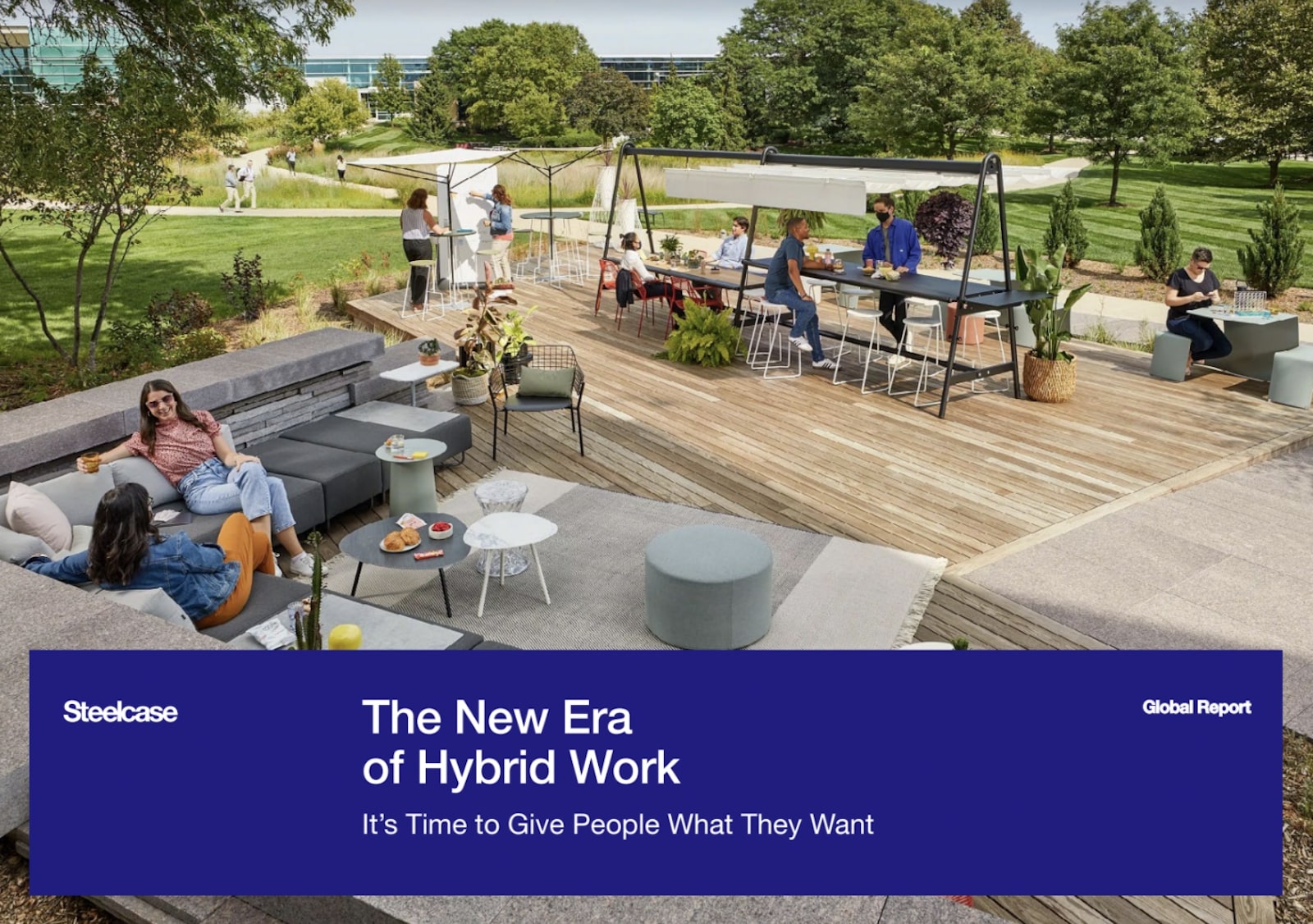 The importance of liking where you work
Working from home, remote working, agile working, hybrid working and blended working – all concepts and practices that have become more commonplace since the onset of the 2020 pandemic. All of them have their place and their invaluable benefits when it comes to employee wellbeing, productivity and retention. We've explored all of these advantages in previous blog posts and will continue to champion the positive impact they can have on the modern workforce.
More reading: Agile, hybrid, blended, flexible: what's the difference? >
However, here, we're encouraging you to look at the situation from another perspective: the benefits of retaining tradition and keeping some elements of workplace culture and design the way they were.
Steelcase's body of 12+ global studies, spanning 57,000 employees and leaders around the world revealed that currently, how much somebody likes working from their office has the biggest impact on engagement (58%), connection to culture (62%) and productivity (57%) – also significantly impacting employee retention (28%).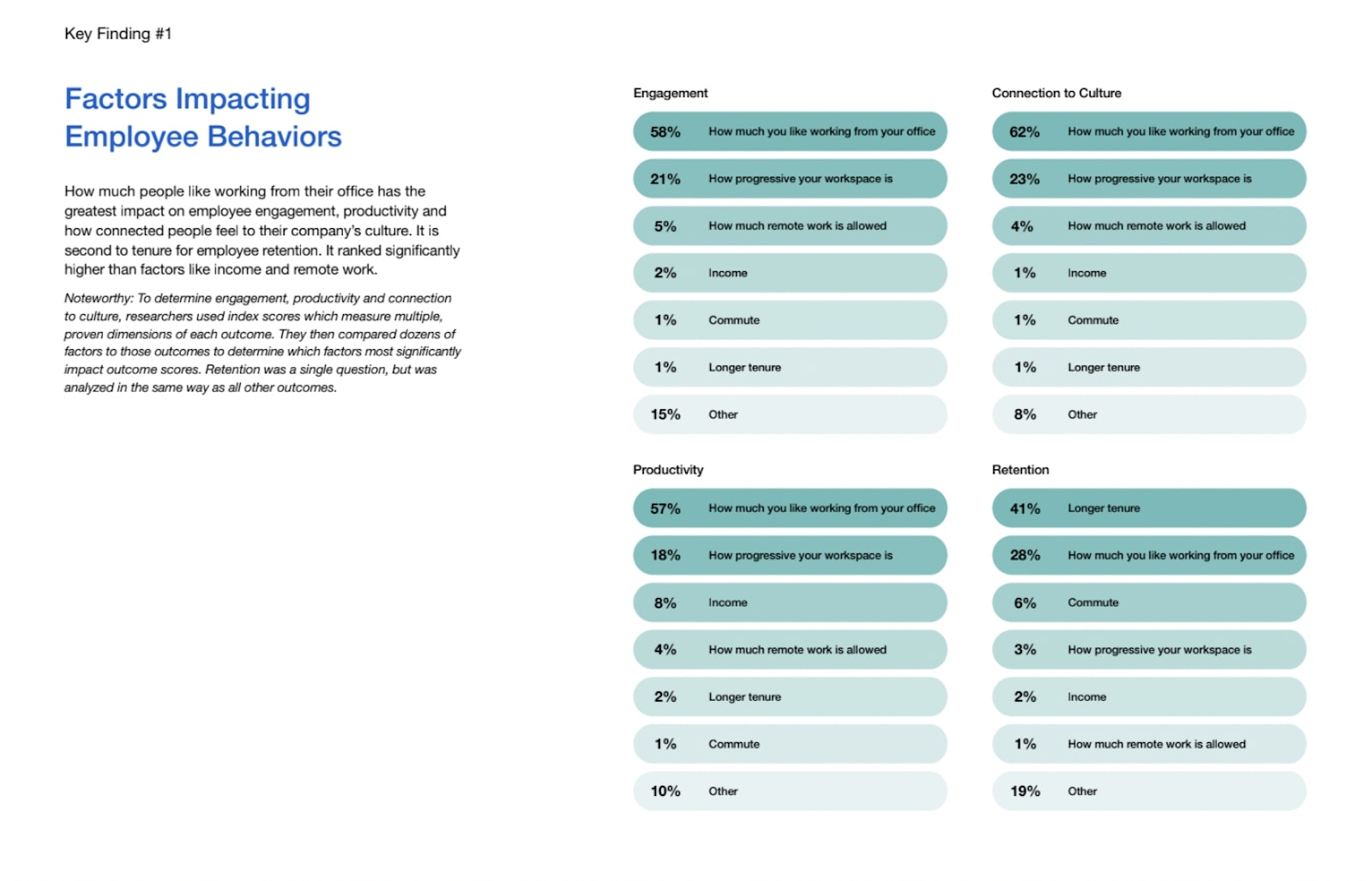 These initial statistics go to show the vested interest the modern workforce still has in the office environment, even when other options, such as remote and home working, are thrown into the mix. That's why it's so critically important for employers and business owners to carefully consider the environments and culture they're offering to their employees.
Assigned workspaces are still a high priority
The second key finding we want to highlight here is how 55% of people are more likely to choose an assigned workspace over more remote work days, accepting less than two work-from-home days in favour of an assigned work setting. So, over half of those who took part in the studies said that they would prefer "more privacy, comfort and control within the office" over days working from home when considering their overall needs.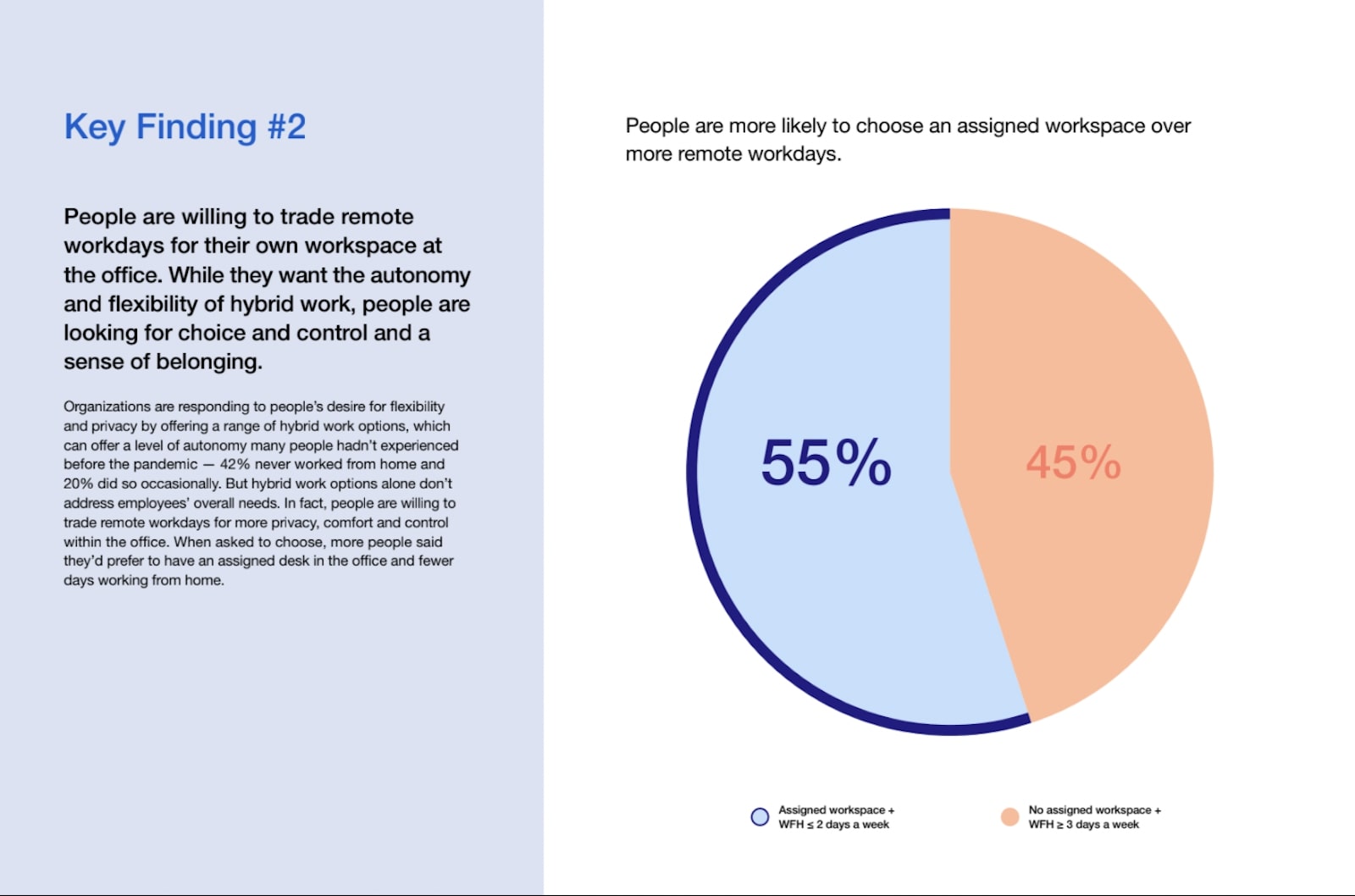 The research also revealed that assigned desks have depleted by more than a quarter (26%) within UK companies, increasing to more than a third (34%) in large companies of 10,000 staff or more. This course of action is in contrast to the percentage of people that say they want an assigned workspace.
What this point sheds light on is how important it is to glean what your employees actually want and how they actually prefer to work before you go ahead and transform your existing workspace into an entirely new environment.
So, although, as we've stressed, remote working has its place, there is also incredible value in the sense of belonging and control that an assigned workspace within an office can provide for some people – and that should certainly not be overlooked.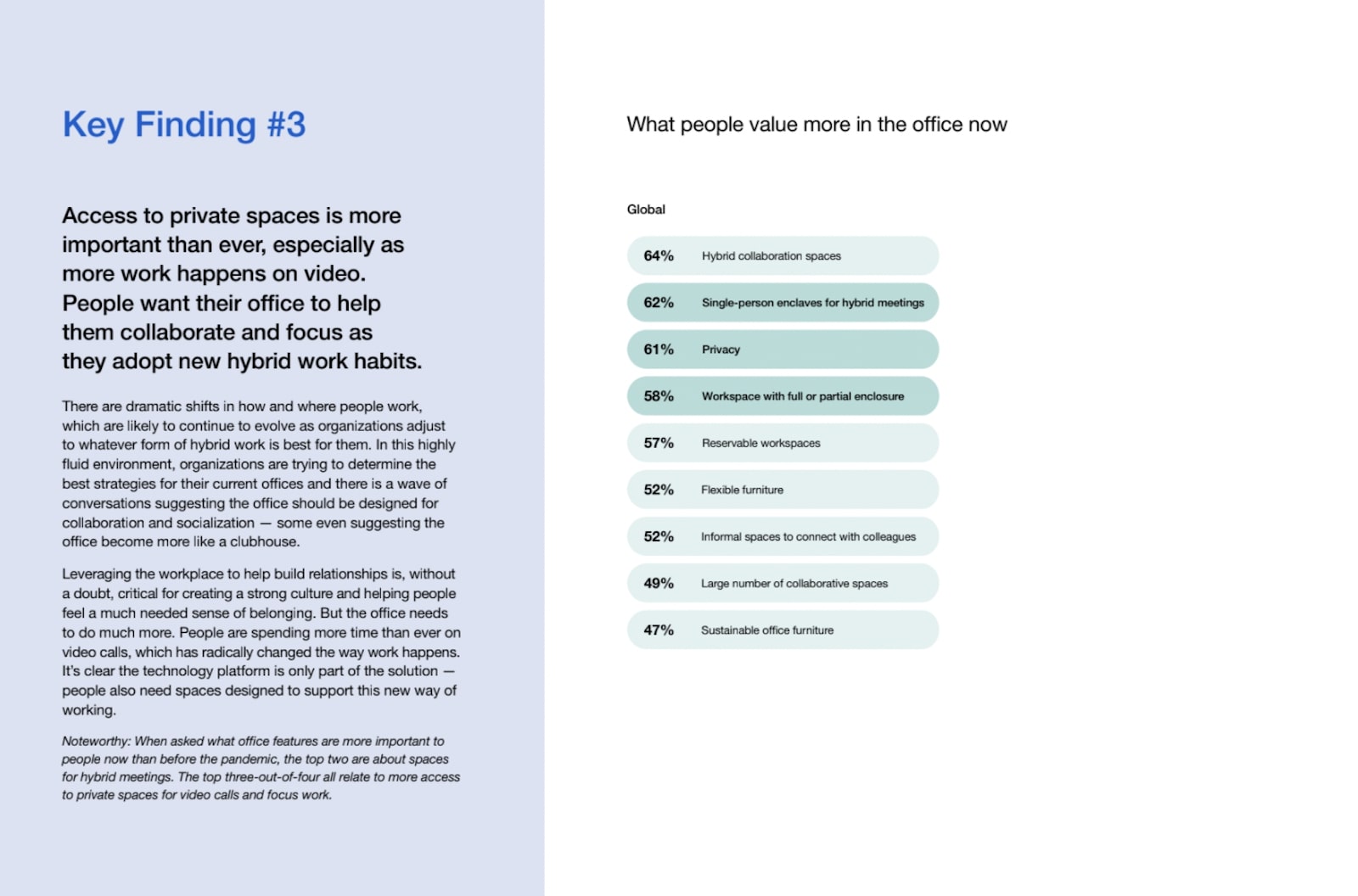 Workplace privacy is more important than ever
The third key finding that we're calling out in this blog post summarises the ongoing importance of providing enough privacy in the workplace – now more than ever. Steelcase found that although hybrid collaboration spaces (64%) were top of the list of what people value most right now, single-person enclaves for hybrid meetings (62%), privacy (61%) and full or partially enclosed workspaces (58%) were only marginally behind.
Comparing this particular data set further consolidates our belief that while new and innovative ways of working, such as hyper-collaboration, are important, it's still vital to provide the basics – in this case, privacy and a place to focus in a quiet, individual setting.
Keep reading: Designing for collaboration and concentration simultaneously >