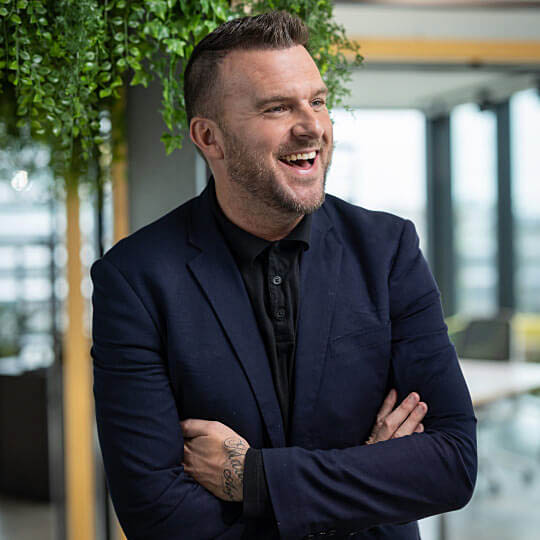 By Adam Guy
Account Manager
Published
30th March 2021
Category
Blogs
A lack of privacy and noise disruption in the workplace are both longstanding issues, particularly since the rise of open-plan offices and collaborative breakout spaces during the past decade. There are many solutions now available on the market designed to combat these problems – but are they enough to respond to the recent Zoom boom?
In this article, we explore the concept of hybrid working and what it means for the modern workplace. We'll then hone in on the increased lack of privacy and noise disruption that hybrid working could be set to cause as people start heading back into the office, before offering our expert advice on how to make it work for your business and its employees.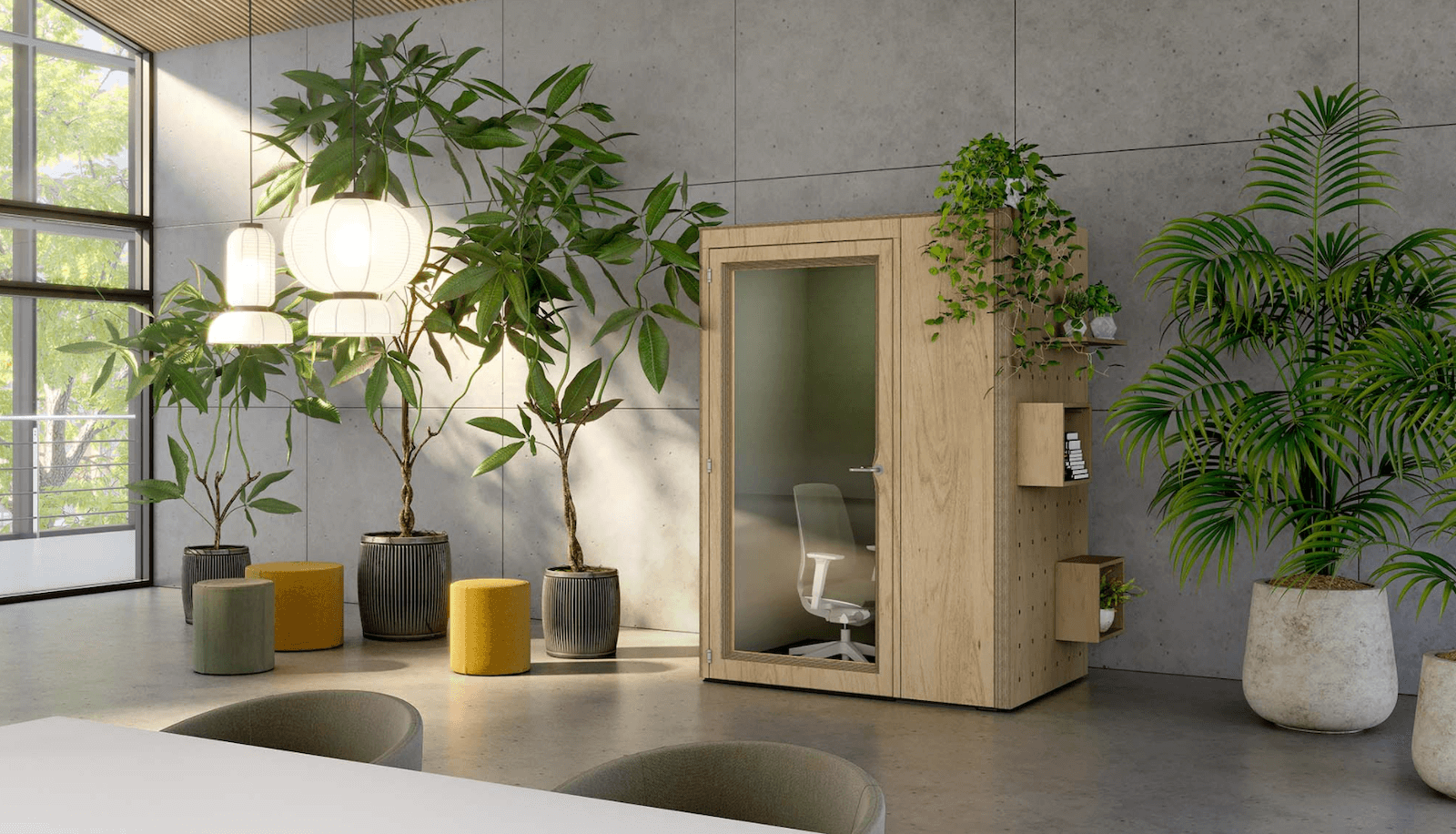 The rise of hybrid working and what it means
In our article demystifying the office design buzzwords of the moment, we touched on the topic of hybrid working. Hybrid working means combining various different ways of working, beyond the traditional 9-5, office-based, dedicated desk model. Most commonly, we expect this hybridity to manifest as a blend of remote and resident working as more employees will be permitted to work flexibly and from home.
As people come and go more freely and the workplace becomes more of a dynamic ecosystem of moving parts, we can expect to see an increase in:
Video meetings (Zoom, Microsoft Teams, Slack, Google Hangout etc).
Phone calls.
More physical movement around the space.
Increased noise levels as people take video calls with externals or internal colleagues who are based elsewhere or working remotely.
More collaborative sessions as people use the office as a base to come together and share ideas, which again, will contribute to more movement and noise within the space.
Less privacy and pockets of quiet as people become more nomadic in their approach to where, when and how they work, rather than being anchored to an assigned desk.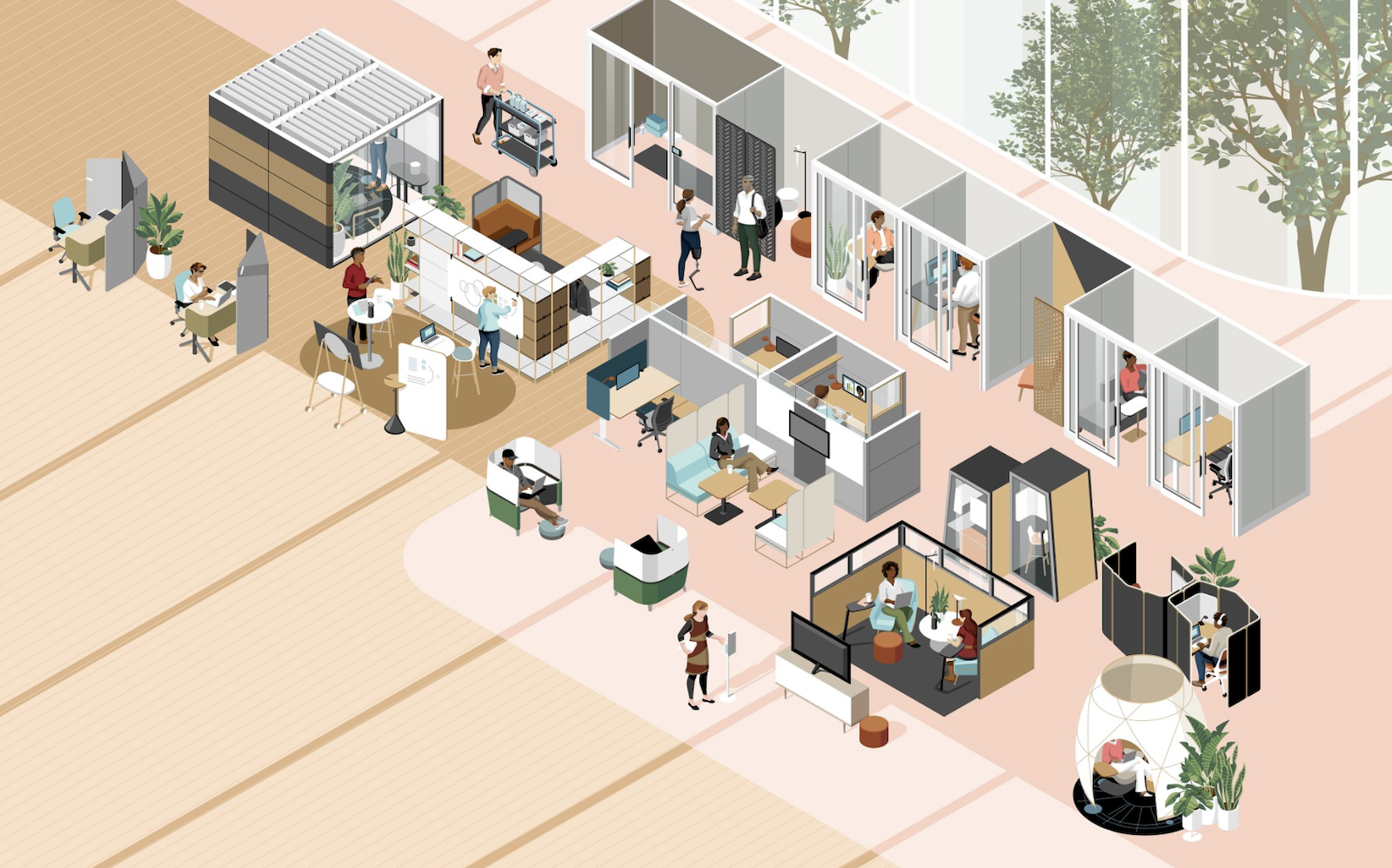 Let's now take a closer look at the first item on this list, and how businesses can facilitate the era of the video call and phone meeting, within the physical working environment.
Could 'Zoom rooms' be the solution?
At the moment, as businesses ride through a period of flux and pivot in response to the pandemic, those in the office are having to take video calls and hold video-based meetings at their desks or in meetings rooms.
However, neither of these are really sustainable, long-term solutions because:
Holding a video call at your desk offers no privacy and can be extremely disruptive to other members of staff working around or alongside you.
Taking up a larger meeting room or breakout area to find quiet or privacy to tune into a video call isn't an economical use of space.
So, does this meant that the modern workplace is now calling for a new, reactive solution?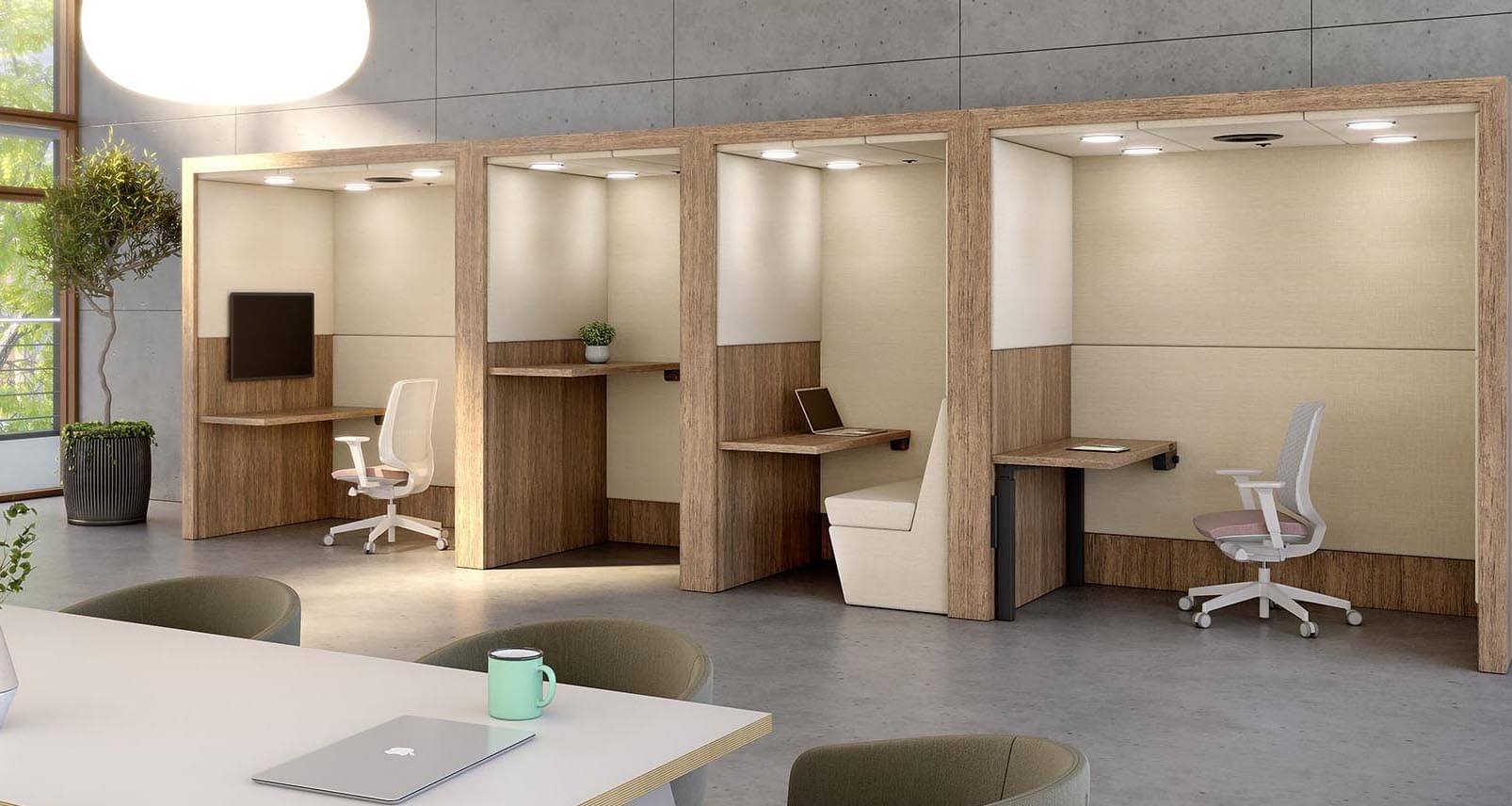 Perhaps new ways of working now require a 'Zoom room' – or something along those lines. A small, dedicated space which can be used specifically by those joining video meetings or taking calls, to negate noise disruption and a lack of privacy.
Creating privacy for video calls in your office design
Now, don't be fooled into thinking this means refurbishing a room in your workspace and dedicating it entirely to video meetings and phone calls. As we mentioned in our article about downsizing to upgrade, now is the time to be clever with your working environment, to ensure every single nook and cranny is adding value.
Of course, it you want to dedicate an entire room to this specific function, then by all means, do so! In fact, our space-planning experts and furniture aficionados would be more than happy to chat to you about this type of transformative project.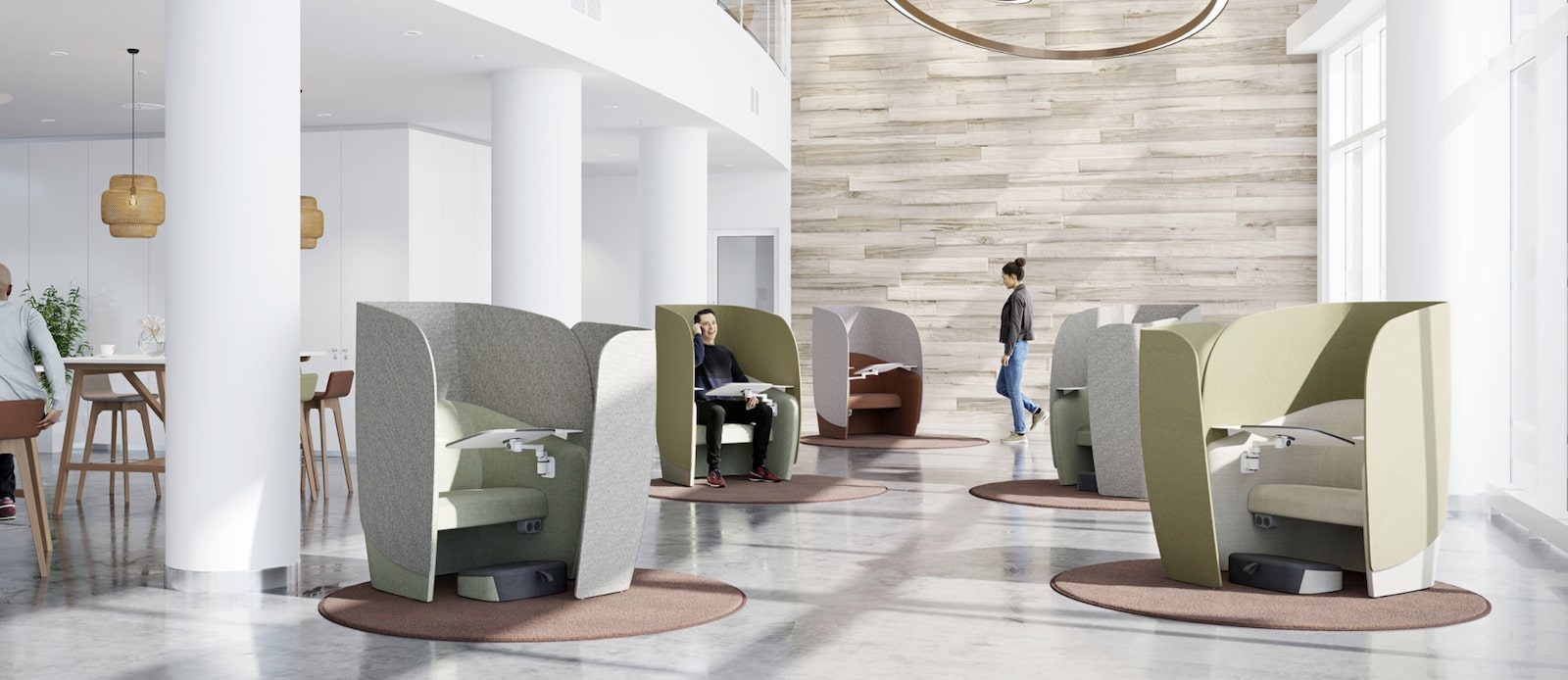 However if time constraints, space limitations or budget dictates that you need something with a smaller footprint that won't break the bank, there are still plenty of great options for you to play around with.
Open booths – These offer the lowest level of privacy and noise control but still an adequate amount for a business with a minimal requirement for either. Booths provide a great place for somebody to touchdown and take a call, or join a video meeting away from the desk, without having to take up large meeting spaces or breakout zones.
Semi-shielded – This includes booths or pods that have high backs and sides to offer a high degree of privacy and shielding from the surrounding workspace, without being fully concealed. These are great for offices which are looking to introduce some acoustic credentials and more privacy than an open booth might offer, but still not in need of total enclosure.
Fully enclosed – This includes things like phone boxes and pods, which can be fully contained and concealed by a door and roof. Often, this type of product also comes with the option of soundproofing for total privacy and concentration. These are less multi-functional but could offer a small footprint.
Some furniture product we'd recommend for meeting these requirements are:
Spacestor – Portals
Spacestor – Residence Connect
Spacestor – Phonebooth
Orangebox – Coppice
BossDesign – Mango
Era – Nautilus