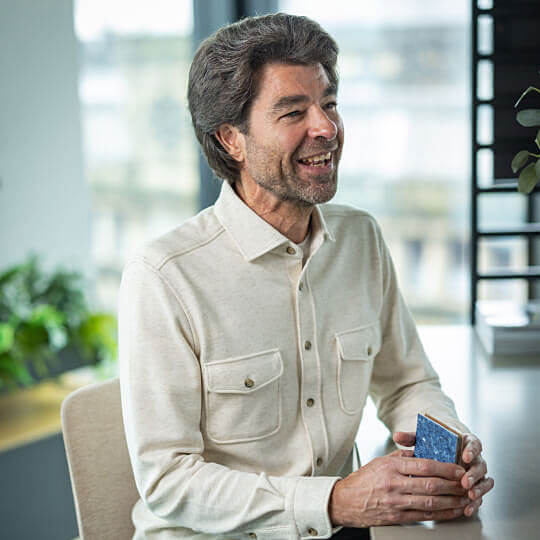 By Paul Mann
Furniture Project Director
Published
24th April 2023
Category
Blogs
In the latest instalment of our Product Spotlight series, we introduce you to the Ubu chair, from sustainable furniture brand, PLANQ – Mixology North21 Product of the Year Finalist in the Loose Furniture category and a true trailblazer in the world of circular furniture design.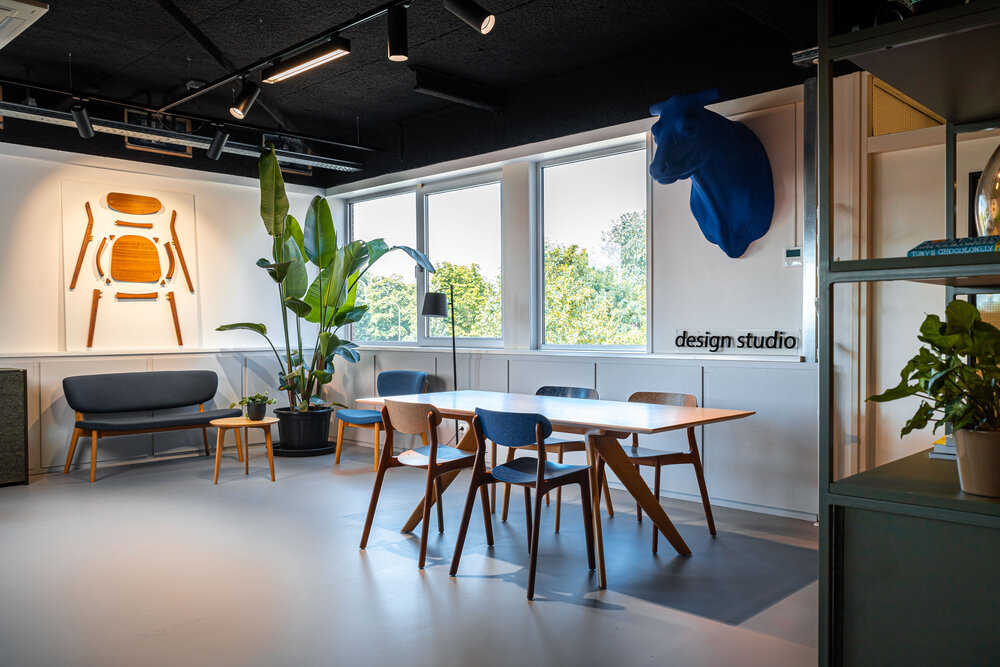 PLANQ: Champions of the circular design process
Dutch furniture brand, PLANQ is on a mission to bridge the gap between contemporary design, sustainable innovation and environmental awareness.
The brand is committed to supporting and evolving the circular economy, which is "an economic system aimed at eliminating waste and the continual use of resources" (Saxen).
One of the ways PLANQ has contributed to the circular economy through rethinking the furniture design process is by developing its own Rezign® materials, including Rezign® Veneer.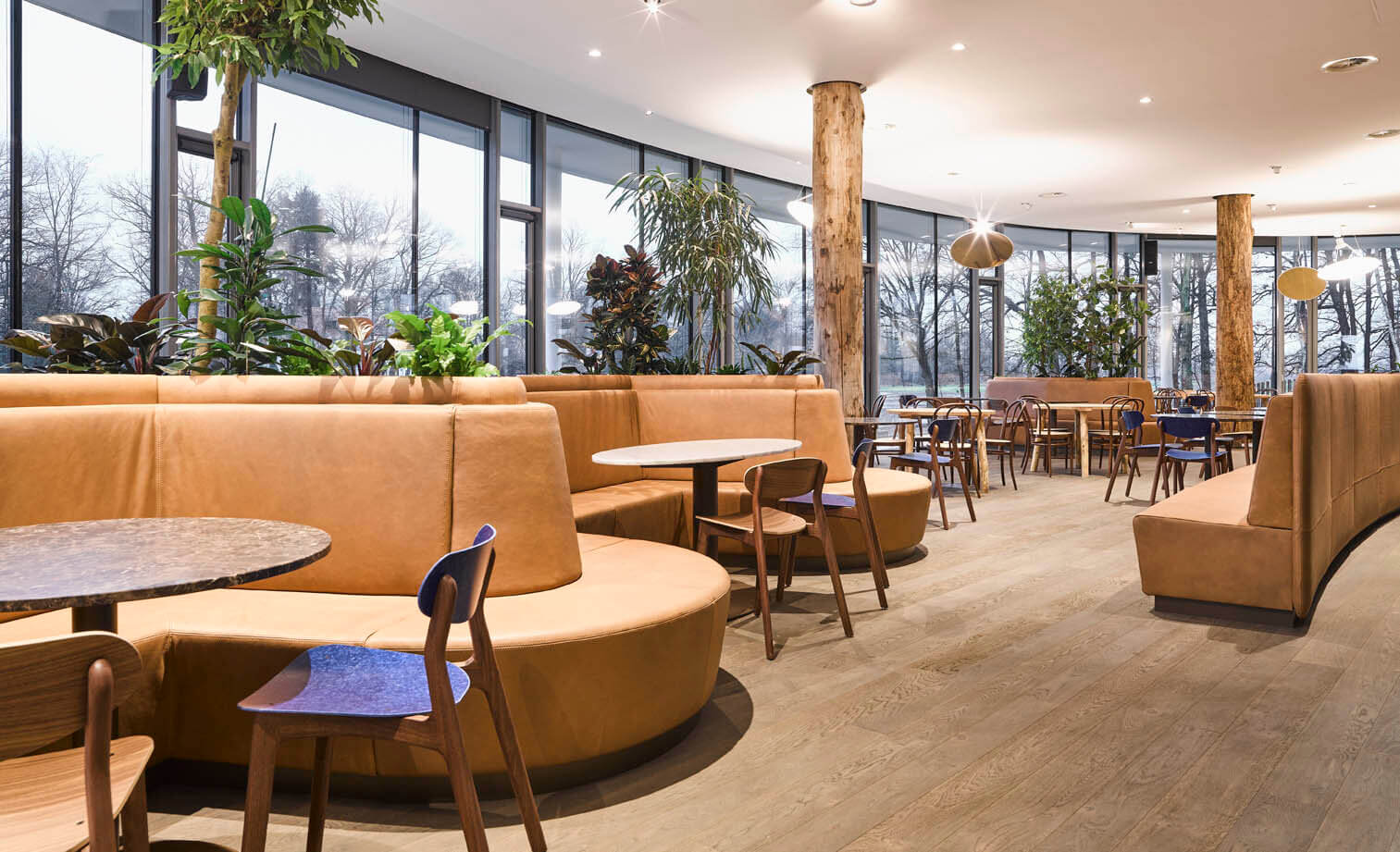 Rezign® Veneer generates raw materials from waste and overstock textiles, such as denim jeans, army uniforms, suits and coffee bags. This forms the basis of PLANQ furniture, including the Ubu chair.
The textile fibres are shredded into small pieces and then carded into felt. The felt is then pressed with a biodegradable binder made of potato, or corn starch, into a solid veneer. The furniture is glued together with a reversible glue formula that is specifically designed to be used again.
Rezign® material is one-of-a-kind and what the veneer Ubu chair range is made from. However, Ubu is also available in a wide selection of recycled upholsteries too, including recycled wool, recycled leather and fabric made from recycled bottles.
The Ubu chair is an innovative example of circular seating made from upcycled clothing that would have otherwise ended up as landfill waste.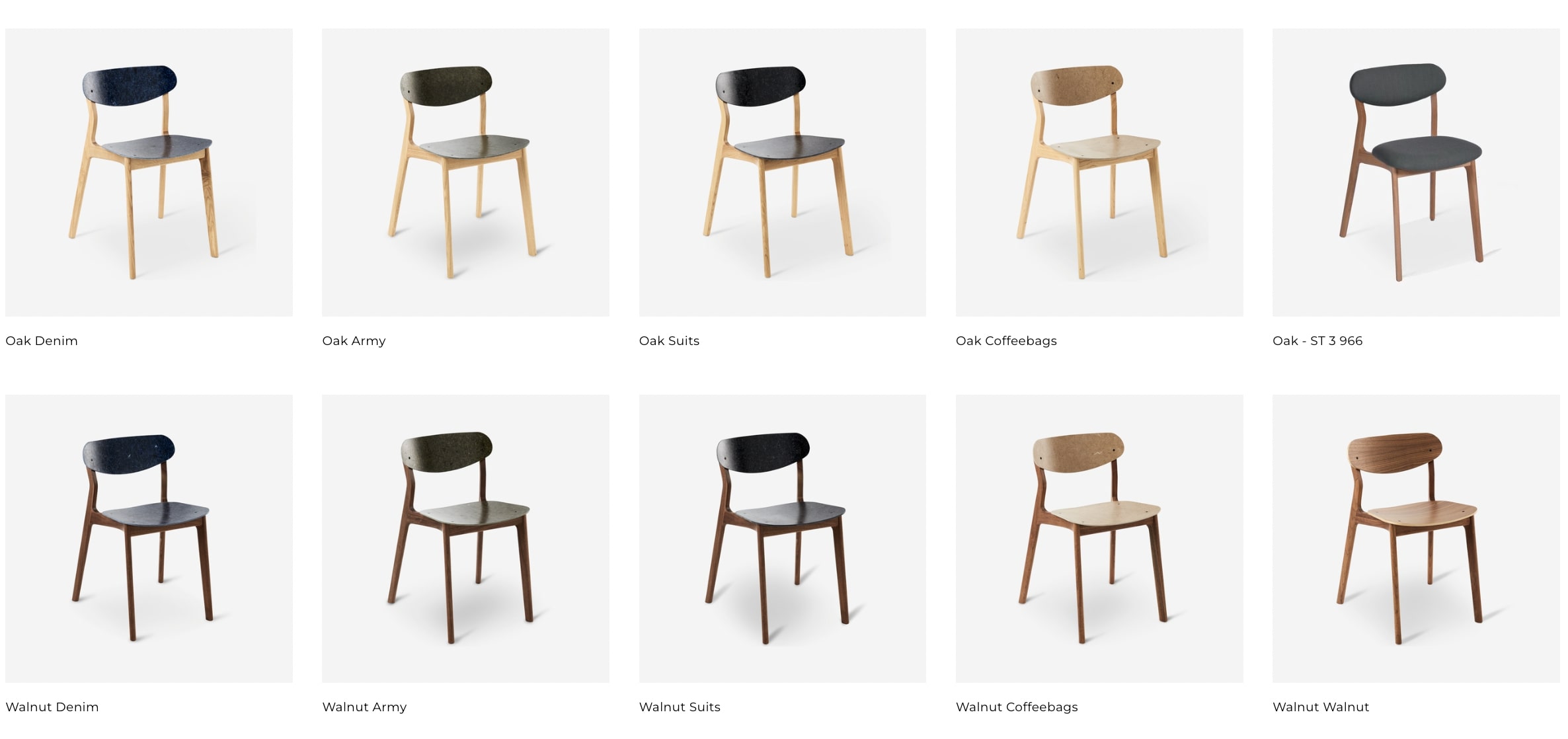 Get to know the Ubu chair
Not only is the Ubu chair incredibly sustainable and timeless in terms of design, but it also has a streamlined silhouette and compact footprint—perfect for even small or downsized spaces.
It's an ideal piece for modern workspaces but also lends itself well to hospitality spaces and even the home.
Five key facts you need to know about Ubu:
One Ubu Denim chair is made from 7.2 pairs of recycled denim jeans, which saves more than 9,765 litres of water during production.
As well as being made from textile waste, Ubu also uses a biodegradable binding agent to compress the materials through an innovative technique developed by PLANQ.
The beautiful, fluid frame is made with solid oak or walnut wood detailing—sourced from sustainably managed forests and always FSC-certified. This wood detailing has clear Scandi influence in terms of tones and silhouette.
Stackable up to 5 chairs, which makes the Ubu chair extremely easy to store and manoeuvre. This is a great benefit for agile, activity-based work settings that are regularly reconfigured.
The name 'Ubu' is inspired by the South African word, 'Ubuntu', which denotes humanity, sharing and sustainability.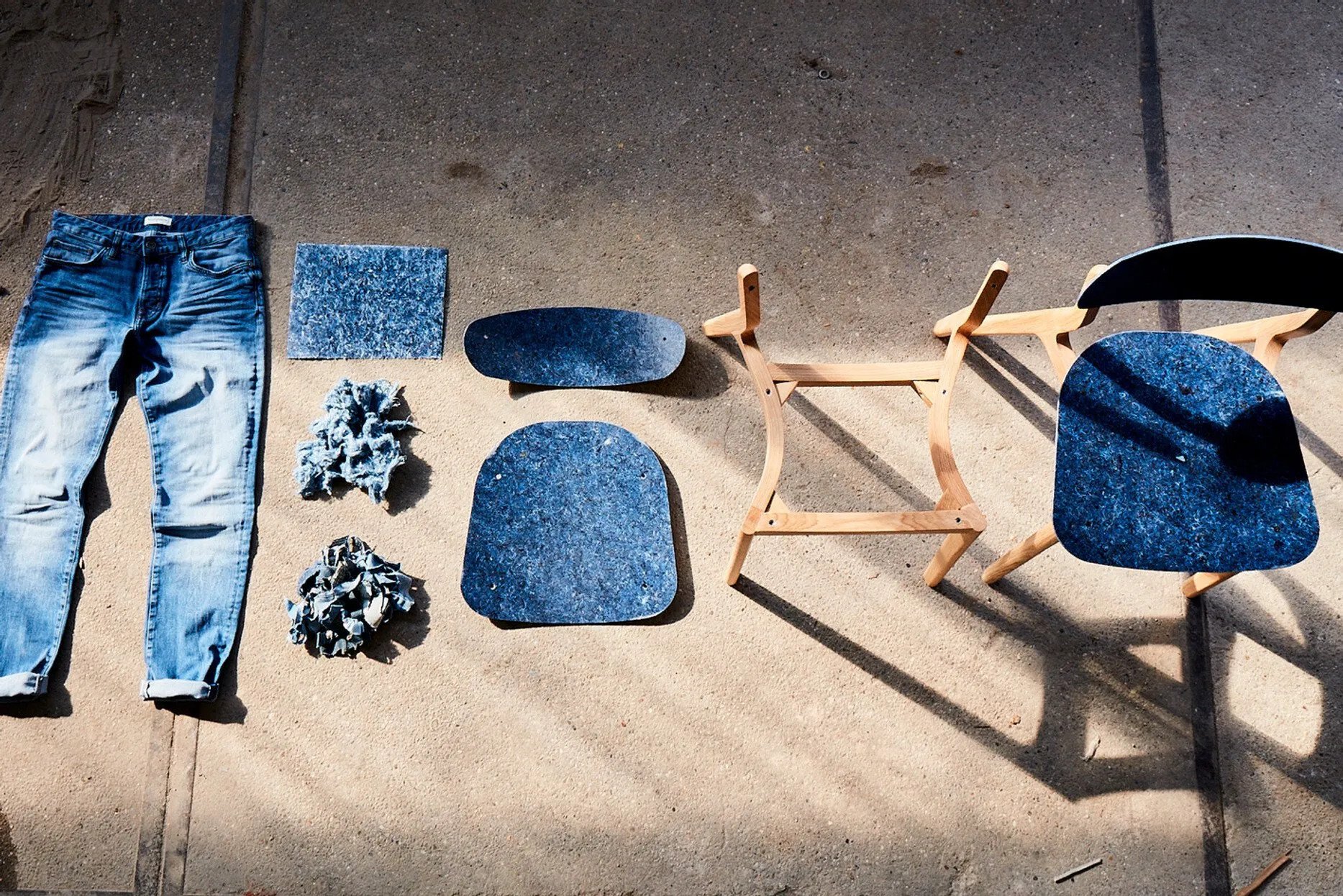 To find out more about PLANQ's mission to reduce landfill waste and learn more about Rezign® Veneer, keep reading.
—
Almost 100% of textiles that end up in landfill could be recycled
Around £140 million worth of clothing ends up in landfill every year and up to 95% of these wasted textiles have the potential to be recycled. PLANQ is on a mission to switch up the narrative and start making the furniture design and manufacturing process more environmentally friendly.
"It's these staggering facts about fast fashion's impact on the planet and the world's poorest people should make us all think twice before buying something new to wear. This highlights the importance of PLANQ's mission in creating a sustainable future by transforming low-value materials into high-value interiors." – Anthony Gray, PLANQ UK partner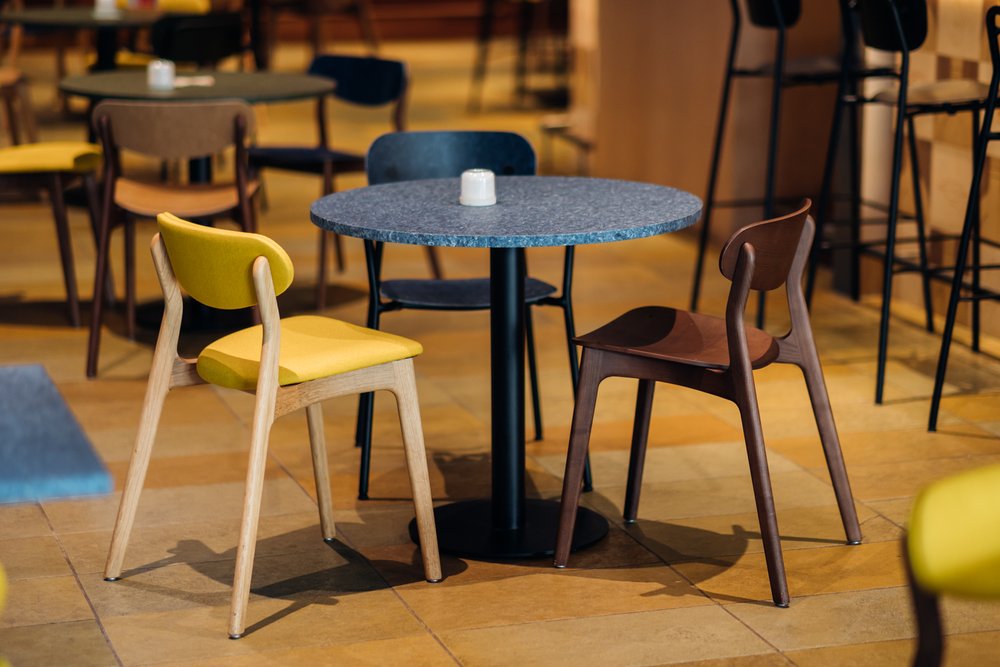 Rezign® Veneer has been created by giving unwanted textiles a whole new lease of life. Rezign® denim is made from recycled jeans from post-consumer resources and fashion brands.
Other Rezign® materials are created from Recycled stewardess clothing from the Royal Dutch Airline company (KLM), recycled Dutch army uniforms and unwanted bank suits.
Not only does this have an immediate and direct positive impact on the waste textiles themselves, but it also represents huge strides toward a more sustainable future in the furniture design industry.
"We believe to inspire the world by making beautiful designs from waste materials. From our drive to make circular creations, we think it is essential to use environment-friendly materials, such as our Rezign® material, wood and recycled upholsteries." – PLANQ
To find out more about the Ubu chair range, get in touch with our team of furniture experts today.