In this article, we share our advice on how to make the most of a small office so you can optimise the space and make your working environment work harder. Because when you've got less room to play around with, every square inch becomes even more valuable.
As we continue learning more and more about the evolving work world post-pandemic, it's becoming increasingly apparent that office downsizing will become a familiar trend over the next few years. As hybrid working becomes more commonplace, there's a reduced requirement for large offices to house the full resident workforce.

Downsizing into a small physical space brings with it great financial reward for companies as they cut down on overheads and utilities. However, what we want to make clear is the paramount importance of approaching the design and fit out of a small workspace considerately and meticulously.
So if you're working with a modest amount of space but still want your workspace to perform to its full potential, keep reading for our expert guidance.
Start with an audit of your current workspace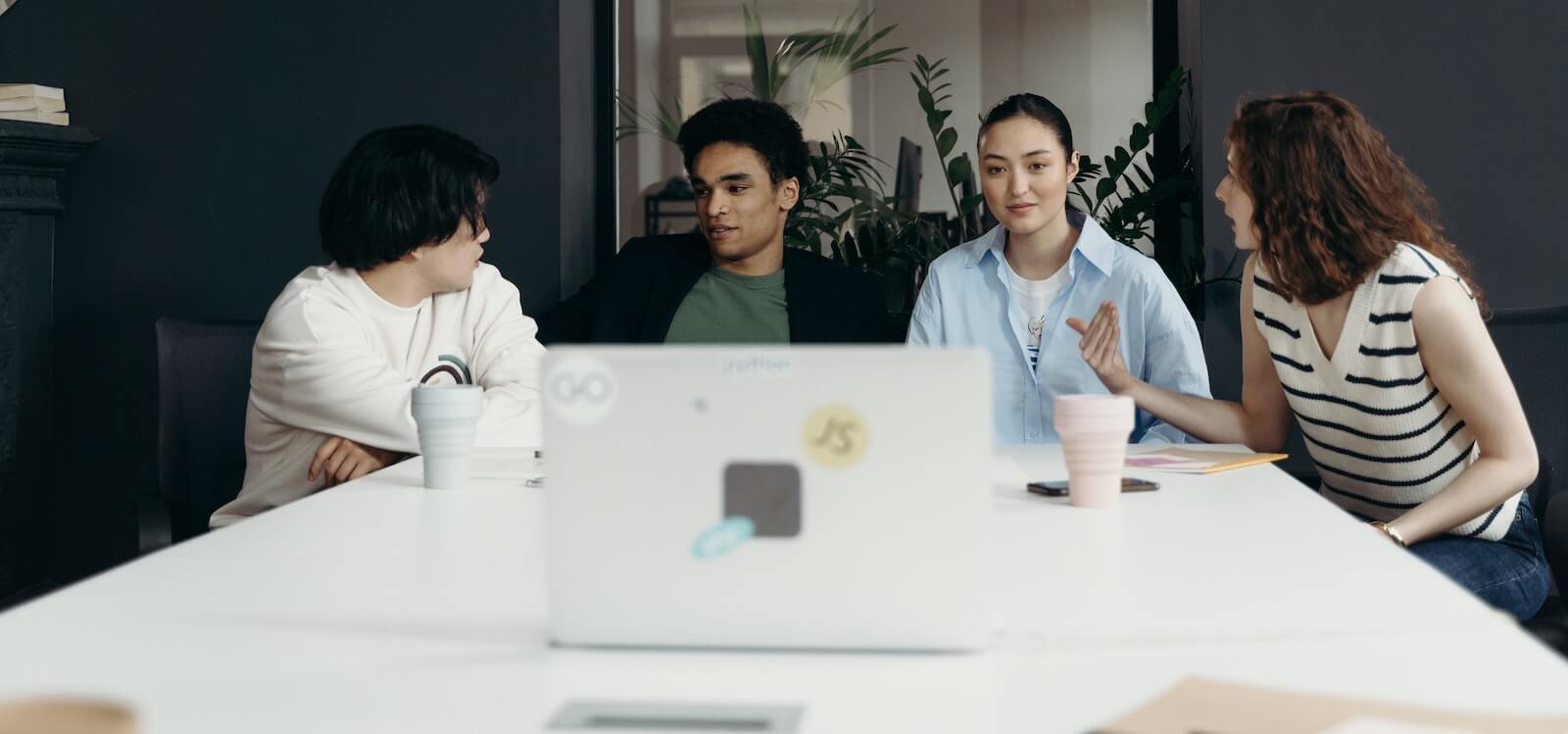 The first thing you're going to want to start by doing is to assess and audit your existing working environment.
Before you even make any changes, use this as an opportunity to step back and analyse how you've been working up until this point. What has been working well? What has been creating issues? Which elements of the space have been boosting engagement and productivity? Which parts of the workspace have been creating roadblocks?
Perhaps your office is still dominated by dedicated desks and it's hindering collaboration and communication between workers. Maybe your traditional meeting rooms aren't equipped for the high-tech, hybrid workers of today.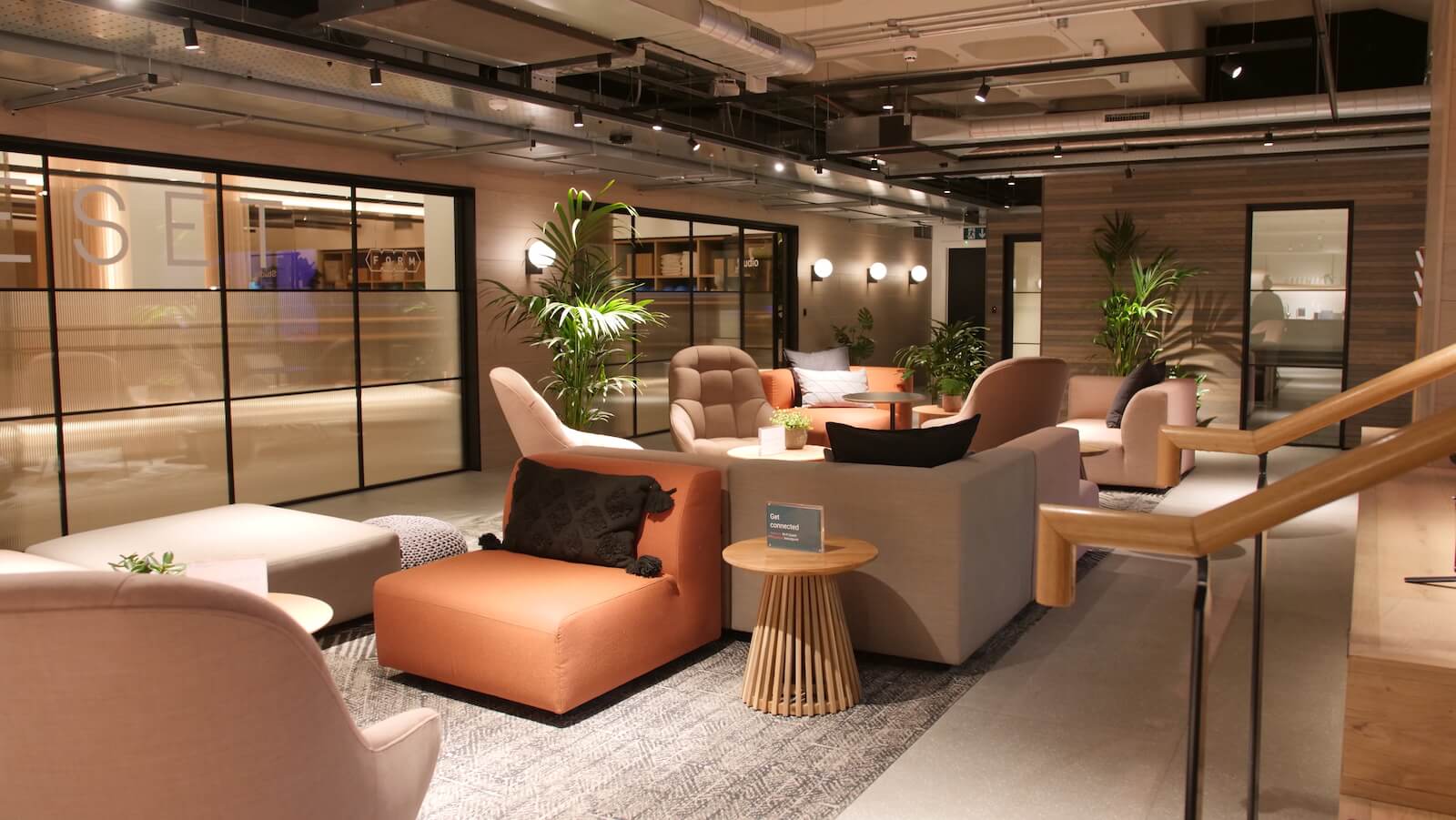 These are all questions you need to answer honestly and thoroughly before taking any more moves forward on a new scheme.
Once you know what has truly been working in your favour, you can optimise the space you have available to ensure that, despite it being small, every square metre has a solid purpose.
Now, let's take a look at the various factors you could consider incorporating into your small office design and fit out to maximise use of the space. 
Facilitate hybrid working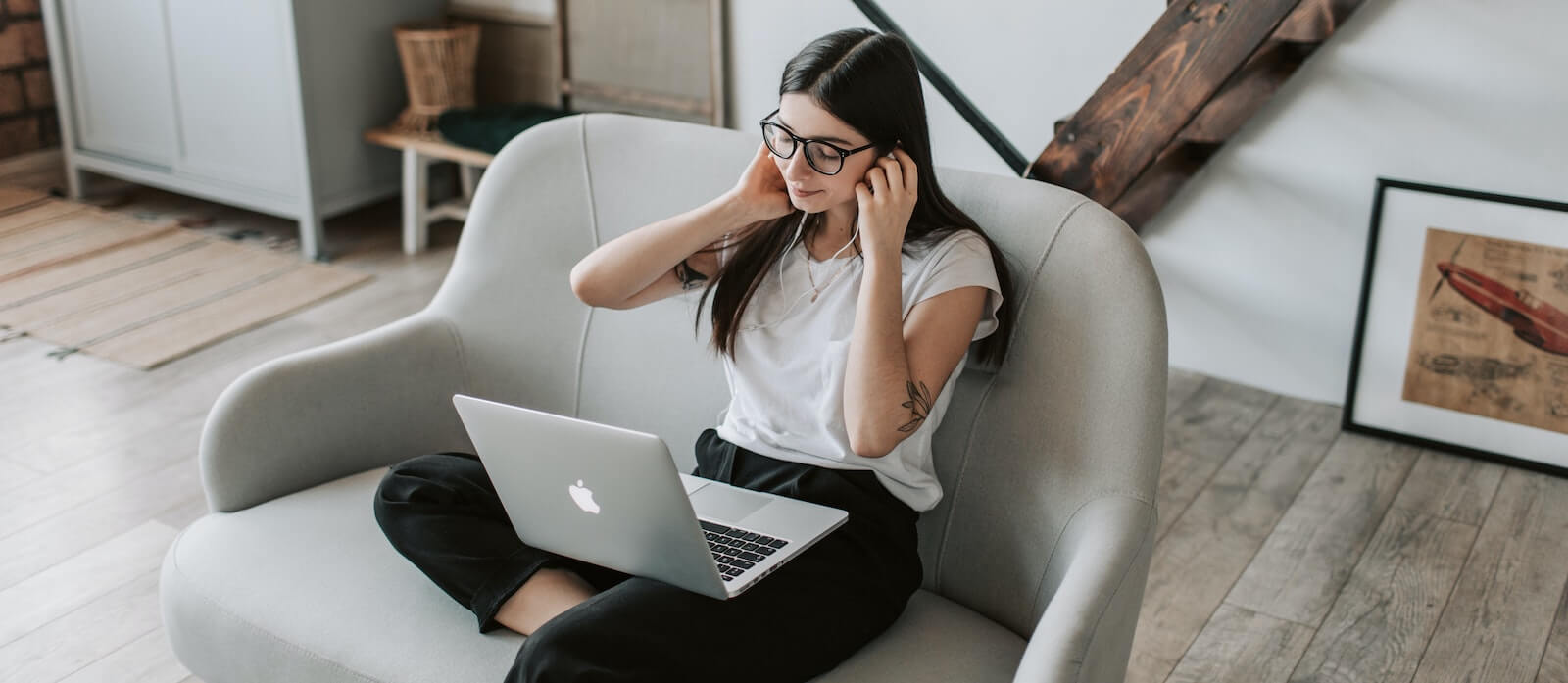 One of the most effective ways you can maximise the practicality and efficiency of a small workspace is to not overcrowd it with furniture and people. You can avoid this by using the office as a base for agile staff to come and go from, facilitating hybrid working and the blend of remote and in-person participation.
If blended working is something you're looking to implement, it's essential that you address the resources and facilities available to employees – which leads us nicely onto our next pearl of wisdom…
Integrate workplace technology 
Just because a workplace is small in its measurements doesn't mean it can't be fully functional for a large team. When you equip an office with the right technology, your workforce can span far and wide – way beyond the walls of the physical environment.
Office technology has evolved in leaps and bounds over the past decade and to wring as much potential possible out of your space, it's high time you took advantage of it.
An electronic booking system, for example, is an effective way to seamlessly monitor occupation of the space – especially in workplaces where hybrid staff come and go. Video conferencing facilities, as another great example, have fast become a necessity in connecting remote and resident workers.
Design a reconfigurable workspace

When working with limited floor space, tethered working environments and banks of desks aren't the best routes to go down. Instead, design a workspace that is dynamic and reconfigurable according to task and requirement so that it can shift its shape quickly and easily throughout the day.
Ways in which you can effectively execute this in a small office is by investing in modular furniture and furniture on wheels. Both of these can be adapted and moved around the space with minimal disruption and maximum efficiency.
Take advantage of outdoor space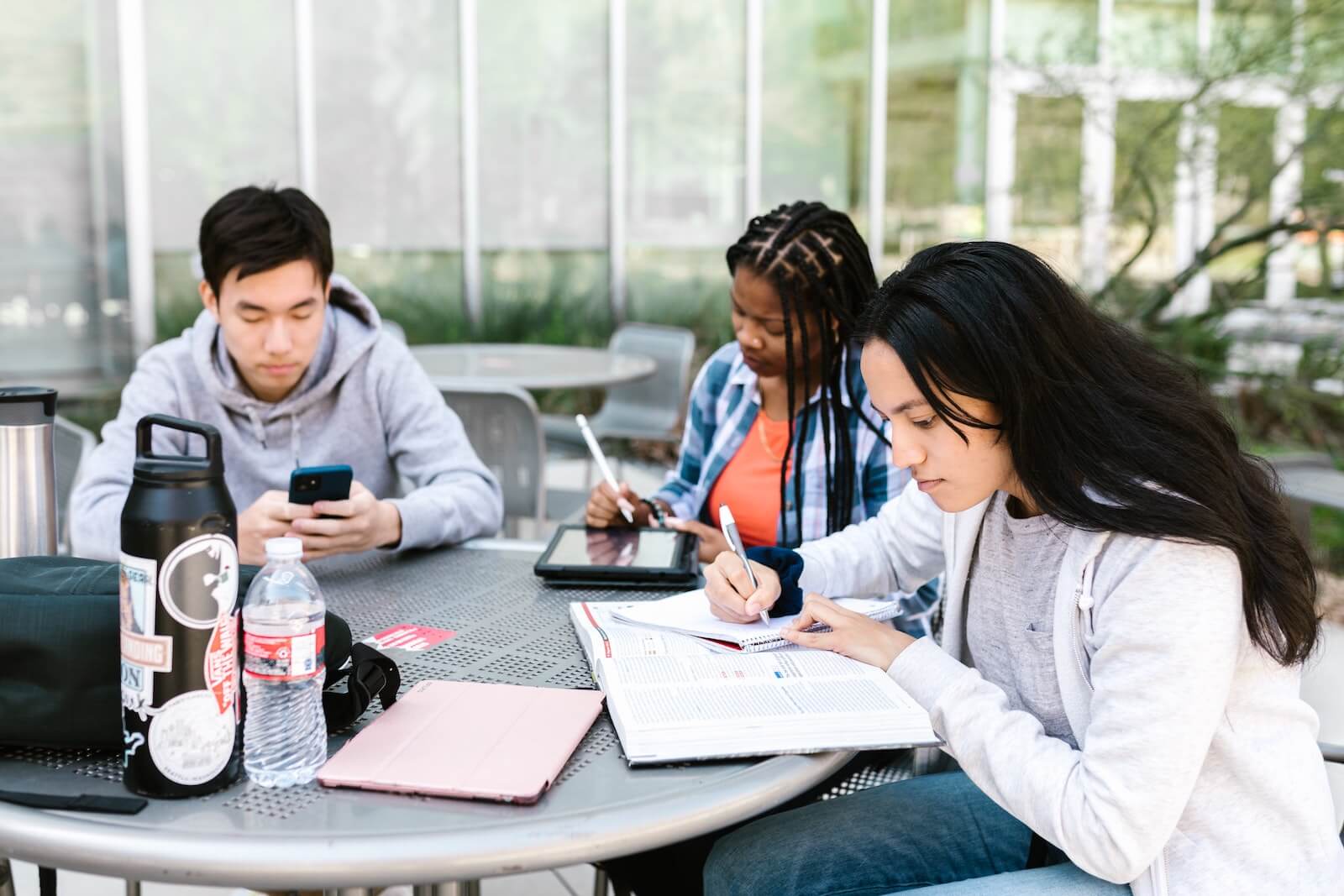 If your small office is part of a coworking space or a shared workspace, you may very well have access to outdoor areas. When the weather permits, take advantage of this by holding meetings or collaboration sessions al fresco.
The fresh air and natural light will also boost cognitive function and employee wellbeing, as well as helping keep the spread of germs and infection to a minimum.
Use wall space to your advantage 

Where floor space is limited, think outside the box and incorporate free wall space into your furniture and fit out scheme. This is an effective tactic that adds a vertical element to the design, adding in facilities without encroaching too much on square meterage.
This type of furniture is great for impromptu conversations and touchdown work.
Read more about the importance of transition and touchdown spaces >>
Use colour and natural light as a design tool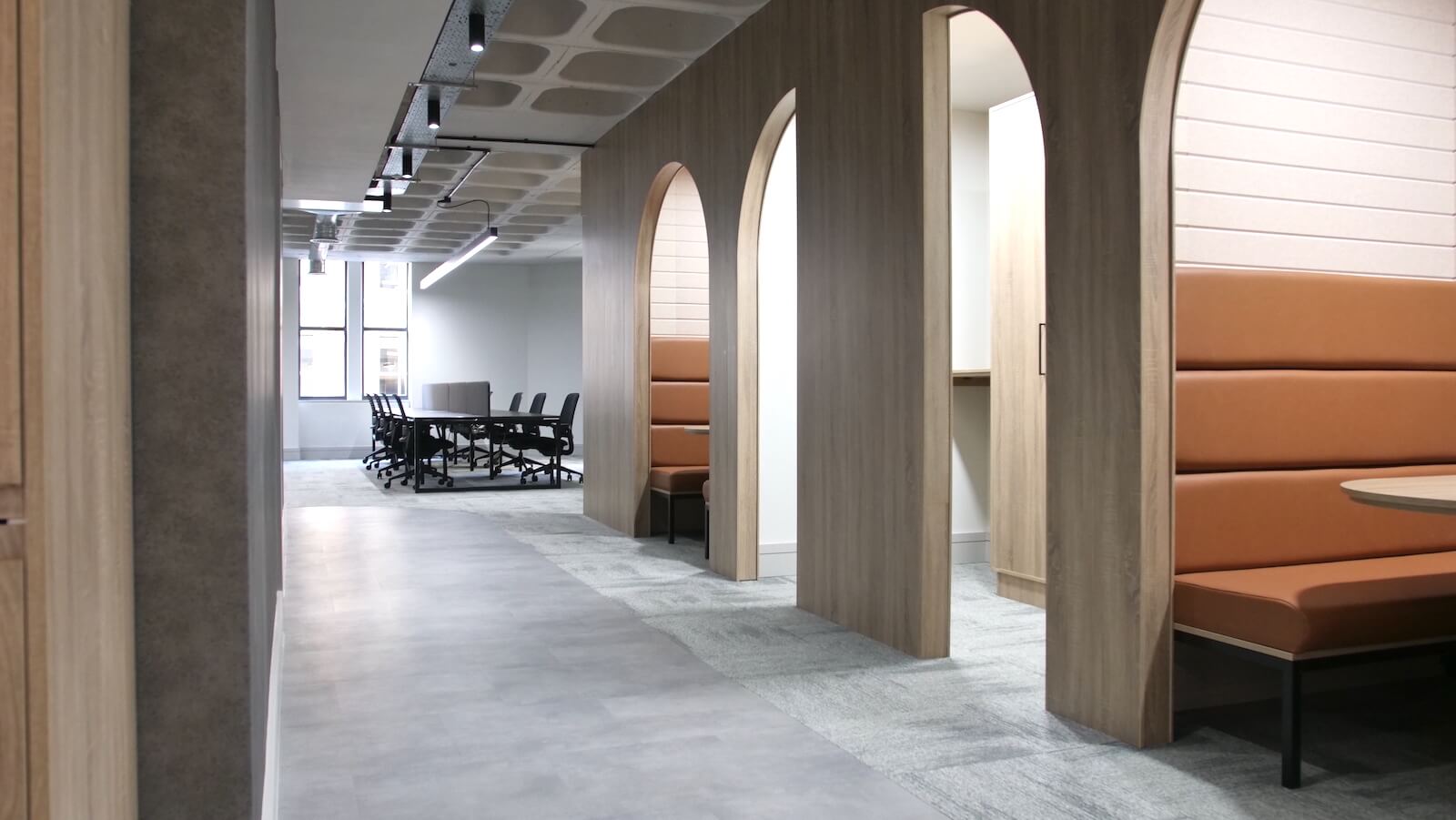 (Image above taken from 60 Spring Gardens: view full case study >>)
We've spoken before about how colour is great communicator when it comes to office design but it rings particularly true when dealing with a small workspace. Stay away from dark colours which will close in the space and instead, opt for clean, light colours which will make the interior feel airy and spacious.
Where you can influence how much natural light leaks into the workspace, make sure you maximise it as much as possible. Keeping the space bright with natural light will also go a long way towards make the environment feel bigger than it is.
Declutter the workspace regularly  
Last but by no means least, we're here to remind you of what you already know – regularly decluttering the office will ensure that you're never wasting valuable space.
Keeping the decks clear and tidy will also help make the environment feel more spacious – a great habit to follow if you're wanting to maintain a workspace that is conducive to productivity and wellbeing.