As we move into the final quarter of 2022, we take a look back over some of the office fit out, design and refurbishment projects we've completed in the past year. From office kitchens and workplace bars to yoga studios, screening rooms and sustainable design, we've covered a whole host of bases.
In the year of back-to-work, post-pandemic, briefs and requirements have been more evolutionary and specific than ever. We've worked with some of the most exciting leading names and upcoming businesses in Manchester and across the North West, innovating working environments and facilitating new ways of working.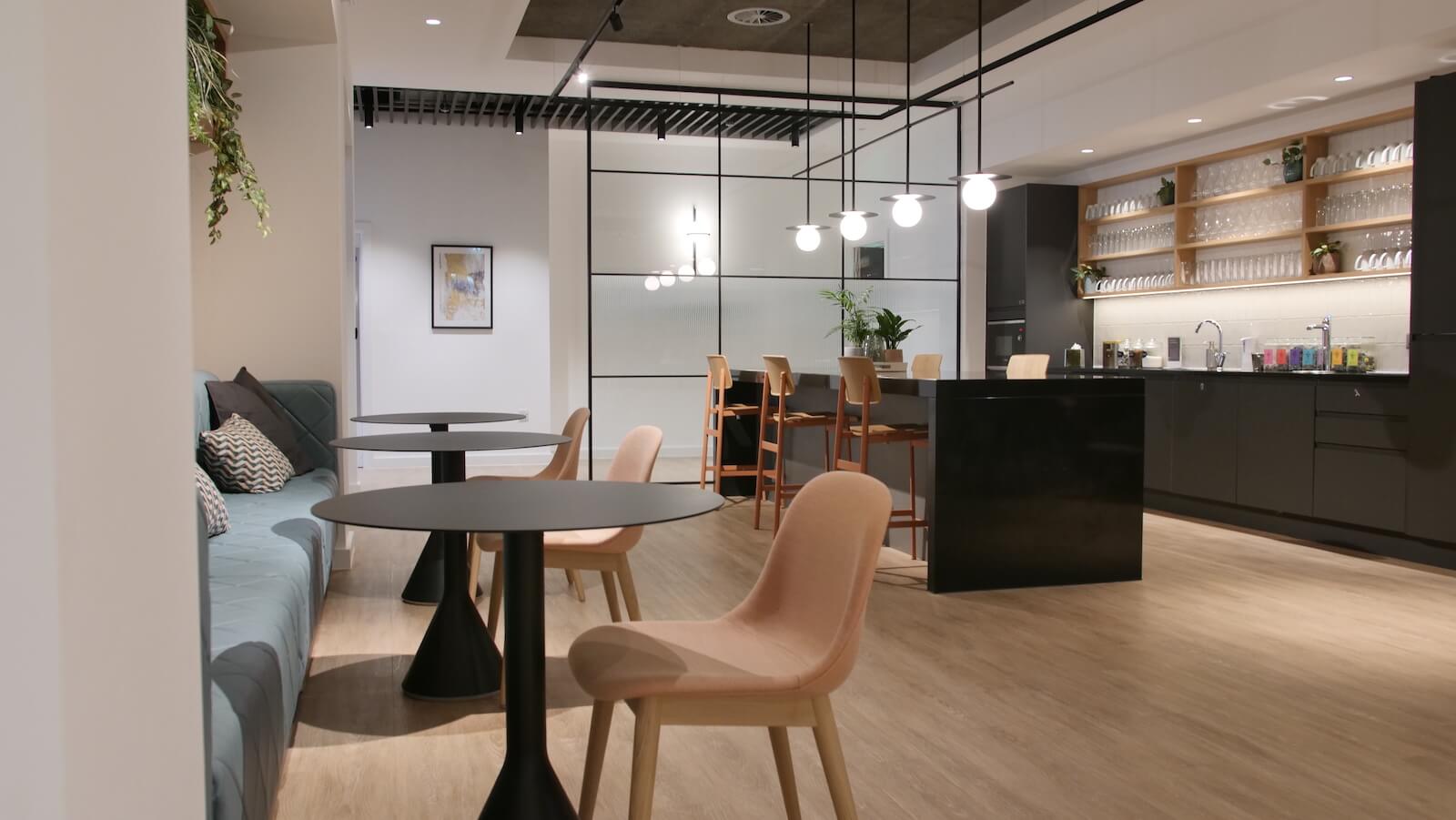 Take a virtual tour around some recently completed spaces below.
Bloc, Bruntwood Works
For this project, we were chosen as furniture procurement and consultancy partner to support CubicWorks and Bridge Architects in transforming a new state-of-the-art workspace in Manchester City Centre—Bloc, part of Bruntwood Works.
The aim of the design scheme was to "balance business within an urban oasis" and required a full refurbishment. Design elements encompassed: biophilia, wellbeing, amenity, lighting, technology, interactive art, community, and collaboration spaces. Engagement of the senses (touch, smell and visual impact) were also crucial when creating this multi-sensory working environment.
The project was awarded the Mixology Award for Workplace Interiors Project 15k – 30k sq ft for 2021.
"[Penketh Group] have great knowledge of products and are quick to highlight any new suppliers that they know we will like." – Bridge Architects
Ombudsman Services
This project saw us chosen as furniture and fit out partner for a full workspace transformation project for the 40,000+ sq. ft Ombudsman Services offices in Birchwood. The main driver behind the scheme was to encourage staff back to the workplace post-pandemic by focusing more heavily on employee wellbeing and engagement through a more modern lens.
The project is to be completed in phases, with the first part completed earlier this year and the rest a work in progress. Our brief included bespoke storage, feature lighting, acoustic panels, reconfigurable furniture and the creation of a brand-new business lounge.
The design scheme also needed to be centered around the company's four cultural cornerstones – Balance, Empathy, Courage, and Openness. We needed to remain loyal to these so that we could create a workspace that supports staff both physically and emotionally.
CornerBlock
For this project, we were selected by APAM as the furniture consultancy and procurement partner, supporting Manchester architecture and interior design studio, AXI, and BLOK Projects construction. Penketh Group joined the consultancy team to transform the space into modern commercial offices, working to fulfill a furniture portfolio that met design and budget specs.
The design brief was to blend heritage with a modern aesthetic—a look and feel that matches the exterior of the Spinningfields building. The expansive, open-plan space includes a diverse range of settings and spaces designed to support hybrid work and agile collaboration.
All of the spaces that come together to form the wider workspace called for specialist furniture—a portfolio our team was proud to consult on and deliver.
"From start to finish, Penketh Group were a pleasure to work with – from initial product suggestion and great communication on lead times and install dates, right through to a smooth, efficient delivery and installation." – Sarah de Freitas, Creative Director
Banks & Lloyd
This project saw us selected as furniture and fit out partner for Wilmslow-based freight forwarding service, Banks & Lloyd. After moving into a new location, the client came to us with ambitions to refresh their physical working environment to support new ways of working.
The new workspace needed to offer space-users more choice and control around where and how they perform tasks, whilst supporting wellbeing and productivity. As well as being functional and high-performance, the space also needed to be visually appealing—a destination of choice for employees and external meetings.
The brief also called for the design scheme to align with a recent brand refresh by showcasing the Banks & Lloyd colour palette in a subtle and sophisticated way.
"We considered five companies and we chose Penketh Group because they understood what we were trying to achieve and it's always very difficult to relate a thought into a material thing." – Vincent Verzijl, Managing Director, Banks & Lloyd
Endress+Hauser
For this project, we were appointed furniture and fit out partner for Endress+Hauser's workspace transform at the UK head office in Manchester. The project was driven by aims to "enhance collaborative human moments", ease the transition back to the office post-lockdown and create a visually appealing working environment for staff.
The brief was to redesign the first floor of the office to bring it up to date with modern ways of working and to foster a fresh approach to company culture. A significant part of fulfilling this brief involved transforming the space from a traditional, tethered desk environment to one that is now agile and flexible.
We were also tasked with incorporating the latest collaborative technology and acoustic elements to merge virtual and physical workspaces, supporting better communication and collaboration between hybrid workers.
"Realising our vision for a collaborative working environment wouldn't have been possible without partnering with Penketh Group. At every step, they encouraged, supported and challenged us." – Steven Endress, Managing Director, Endress+Hauser
Do you have an upcoming workplace fit out, office design or refurbishment project on the horizon in Manchester, Liverpool or surrounding North West areas? Our redesign experts and furniture specialists would love to hear about your plans.