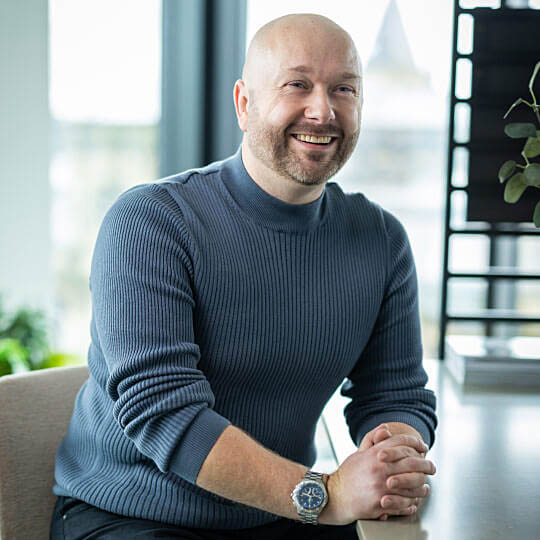 By Martin Taylor
Technology Specialist 
Published
21st September 2018
Category
Blogs
When it comes to co-working spaces, the design decisions you make and the products you choose to install all need to have collaboration and communication in mind. From integrated power sockets in seating, to screen-sharing and video conferencing, there are a whole host of technological solutions which enable you to do this.
Clickshare – the innovation of idea-sharing
Gone are the days of crowding around one computer screen at a dedicated desk with restricted viewing and minimal participation opportunities. Incorporating something like Clickshare into your office technology portfolio allows you to completely revolutionise this process by enabling multiple users to connect their device and control the master screen individually.

Media:scape – blurring lines between furniture and tech
There are many modern office furniture choices on the market today which successfully combine the function of furniture with the added benefits of integrated technology.
A popular example of this is soft seating with integrated power sockets where users can charge their devices as they work in comfort. One of our most highly recommended example, however, is the innovative media:scape family.
Media:scape uses intelligent PUCK technology to enable a multi-user configuration, which makes information sharing and collaboration within a co-working environment more streamline than ever.
Reserva – boosting organisation, minimising disruption
By their very nature, co-working spaces can become extremely noisy and busy places as workers collaborate and move more freely. For this reason, it's important to take measures to organise use of space and also provide privacy and space for quiet, individual focus.
Reserva is an interactive room sign and electronic booking system which manages the usage of specific rooms, whether it's for meetings, confidential tasks or private concentration. Using this kind of technology improves organisation and time management, as well as minimising interruption.
Video conferencing – bringing communication up to date
As attitudes towards work become more progressive and flexible working becomes more commonplace, encouraging communication between staff becomes increasingly vital.
Video conferencing is one of the best ways to improve communication between resident and mobile workers so we recommend incorporating facilitative technology such as the LifeSize Phone HD within your co-working space.
Power & data – keeping everybody connected
Ensuring there is sufficient access to power and data is perhaps one of the most obvious but essential elements of co-workspace design. In order for the space to be effective, each user needs to be able to plug in and power up without disrupting anybody else or cluttering the space with wires.
Products such as Beat, Mars and M/Connect (which can all be found here) all provide multiple power outlets to make sharing, collaboration and dynamic participation possible.
What's more, this type of shared power technology also enables you to maximise the use of space by negating the need for individual sockets and ports.