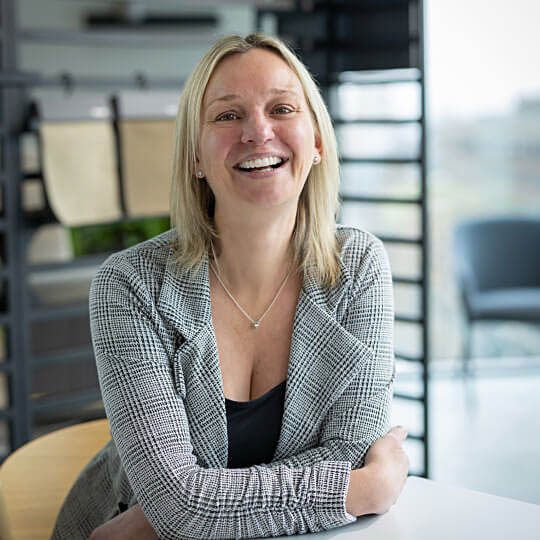 By Amy Strand
Furniture Estimator
Published
10th January 2023
Category
Blogs
The creative definition of 'minimal' is: "characterised by the use of simple forms or structures, especially geometric or massive ones; characterised by simplicity and lack of adornment or decoration". As a prominent interior design trend, it's essential to understand how to balance minimal design tropes with practicality in order to create a workspace that is both functional and aesthetic.
Minimalism is a modern trend that's showing no signs of slowing down anytime soon. Its contemporary counterpart 'maximalism' might have made an appearance of late but clean, minimal design schemes are here for the long haul. 
Keeping minimalism minimal isn't always easy though. Especially in commercial workspaces full of furniture, technology, supplies—and people who, of course, come with their own personal clutter.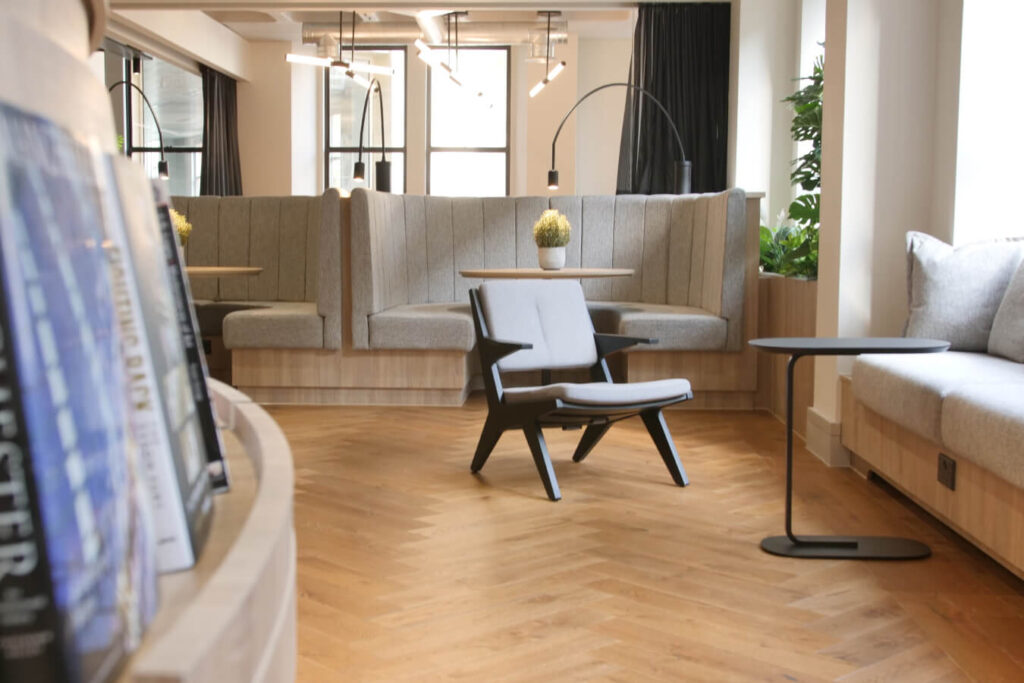 In this blog, we offer three top tips on keeping your space clutter-free so you can master the art of minimalist design but also ensure the workplace stays clean, tidy and conducive to positive productivity and employee wellbeing. 
Audit business supplies to procure and store smarter
In workplaces, one of the biggest culprits of clutter is office supplies such as stationery, cleaning products and kitchen necessities like tea and coffee. These are all a necessary part of office life but if they aren't procured and stored smartly, they can lead to a messy and untidy workplace. 
As a supplier to many of the North West's leading businesses, we dedicate ourselves to helping our customers make the most cost-effective procurement decisions possible. This includes also considering what's best for the planet. As part of our service, we offer companies free supplies audits so that they can take stock and move forward in a way that benefits the business and its bottom line. 
Not only does this help make sure your business supplies are as cost-savvy and sustainable as possible, it also means you can ensure you're only procuring (and storing) what is necessary. Where the topic of minimal design and clutter-free workspaces is concerned, this is invaluable as you can remove any unnecessary supplies from storage to free up more space. 
When was the last time you assessed your business supplies? Arrange your free audit >>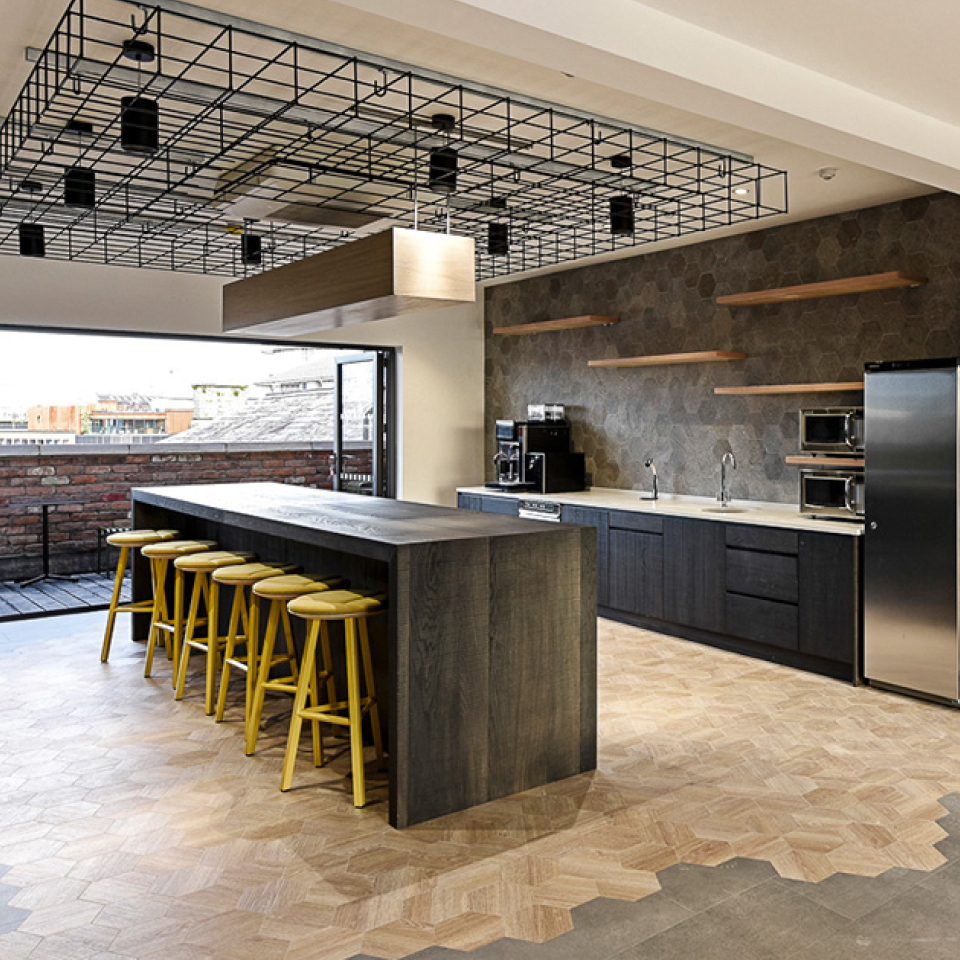 Install multifunctional storage solutions
A minimal design scheme, as the name suggests, is all about optimising look, feel and function as much as possible using as little as possible. Uncomplicated patterns, neutral colours, simple shapes and storage enable you to conceal as much clutter as you can. This includes things like cupboards, credenzas and integrated cable organisers but also, products that help keep clutter at bay in a more subtle, versatile way. Pieces that help you organise items in plain sight. 
These days, there are so many innovative furniture and storage products on the market that it is easier than ever to maintain a minimal aesthetic without compromising function. For example, you might consider including a modular storage wall in your workspace that also serves as a way to divide different work settings.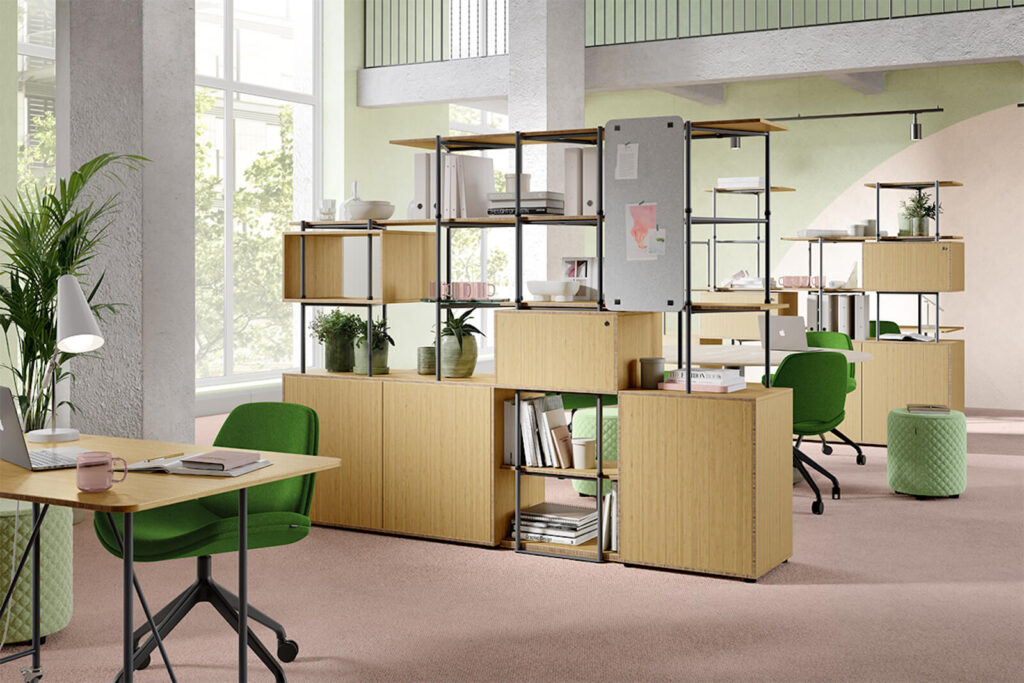 Office furniture such as desks, bleachers, coffee tables and stools are also examples of items that provide a great opportunity to double-up additional storage. Better yet, furniture or storage on wheels that can be easily manoeuvred around the space and reconfigured in a modular way to create flexible and adaptive work settings.
Carve out dedicated storage spaces (and be strict about them)
One of the keys to success when it comes to a minimal design aesthetic is to make sure that everything has a place. This is far harder to maintain in a busy workplace than it is at home, we get it but when everything has a place it can be retrieved from and returned to, it makes keeping the physical space tidy and clutter-free significantly easier. 
That's why, when storing things like office supplies and tech, an effective strategy is to have assigned storage spaces—and stick to them. Purpose-built storage reduces the need to keep items out on work surfaces and prevents the need to tidy things away in random places, which will only lead to disorganisation and clutter. 
We would recommend keeping these assigned storage places away from spaces where staff will want to collaborate, create, concentrate and/or host clients or other visitors. As the old adage goes, a tidy space makes for a tidy mind, which is why minimalist design is often so effective in fostering focus, productivity and better overall wellbeing.