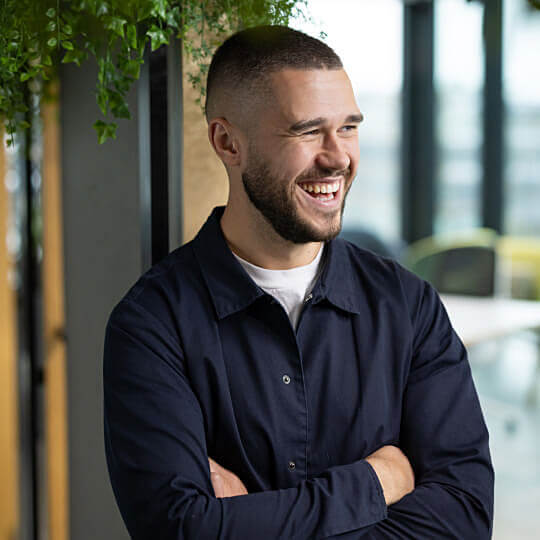 By Sam Noton
Project Consultant
Published
19th August 2019
Category
Blogs
Ergonomic furniture describes products that have been designed with comfort, functionality and the movement of the human body in mind. This type of furniture is becoming more popular in modern office design schemes and is something we would recommend considering as part of any upcoming office refurbishment or fit out project.
In this blog post, we're going to look more closely at what constitutes a piece of ergonomic furniture, why ergonomics in furniture are so important and how leading manufacturers in the commercial design industry are making this type of product a more accessible to office fit out companies like ourselves.
What does ergonomic furniture mean?
Ergonomic furniture is furniture that has been designed to support function and comfort for human use, reducing the risk of musculoskeletal problems, joint pain, back issues, neck pains, arthritis, restricted organs and poor blood pressure.
In order for a piece of furniture to be considered ergonomic, it must:
Not restrict but further enhance natural movement and flow of the human body
Support the natural S posture of the spine rather than forcing it into a C shape
Be easily adjusted to accommodate a diverse range of people
Encourage more physical movement during the day where possible
Put usability ahead of aesthetics or convenience
Reduce stress on joints, bones and muscles
Common examples of ergonomic furniture features include:
Height adjustability to ensure hips are parallel to knees when seated
Pivotal screen monitors (with filtered screens to help prevent glare and eye damage)
Keyboard and mouse supports to reduce things like carpal tunnel syndrome
Chair arms with 180-degree adjustments to mimic the movement of the human limb
Weight-activated mechanisms in seats for appropriate support
Temperature regulating fabrics
Steelcase's Global Posture Study
A few years ago, leading furniture manufacturer, Steelcase launched its famous Global Posture Study in a bid to gain more insight into how people are physically navigating and using workspaces today. The study revealed 9 new postures which have manifested as workers use a more varied selection of technological devices throughout the day.
In fact, Steelcase discovered that 45% of workers use three different devices during the day, while 13% use four. This has lead to an increase in issues with spinal alignment, neck pain and back problems as furniture design still has a lot of catching up to do.
The whole human body – including arms and legs – are more mobile than ever before thanks to portable technology, so furniture needs to be accommodating, supportive and ergonomic.
Following its study, Steelcase set about developing the popular Gesture chair, which was the very first seating solution designed to support the various ways in which humans interact with technology. The innovative chair is part of a new understanding of how furniture now needs to go beyond standard adaptability into more granular detail, as far as things like weight, gender and physical ability.
Why is ergonomic furniture important in office fit out?
Employee wellbeing – The Center for Disease Control found that 35% of people who sit for 8 hours or more a day are likely to develop some sort of musculoskeletal disorder. Offering more intiuative furniture and more freedom of movement through things like sit-stand desks and agile work settings is an effective way to lower the amount of time staff spend seated. Nurturing physical health aspects like this will then naturally improve mental wellbeing in the workplace and foster healthier, more positive employee wellbeing.
Productivity – When a person feels comfortable is when they can do their best possible work. Introducing ergonomic furniture into your workplace will therefore help reduce instances of discomfort, frustration, distraction and even absence due to unsatisfactory office furniture.
Diversity and inclusion – As the modern workforce becomes more physically, mentally and socially diverse, workspace design needs to become more inclusive. Ergonomic furniture is far more comprehensive in its adaptability and far more accommodating than the traditional desk and task chair. Therefore, this kind of intuitive furniture is going to be a vital tool for attraction, retention and policy compliance going forward.