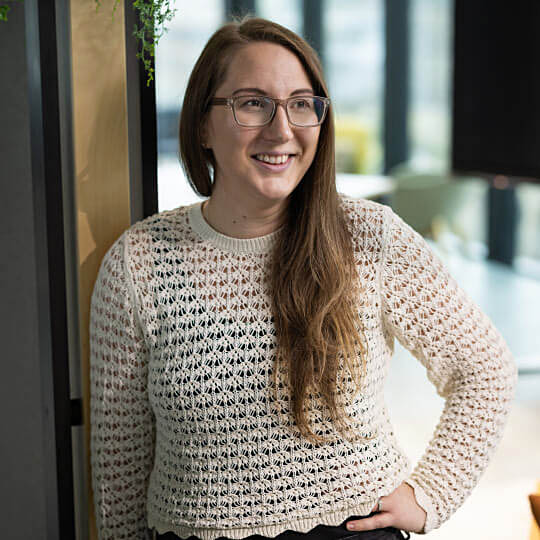 By Shelley Hatton
Workplace Designer
Published
20th June 2023
Category
Blogs
When it comes to an office fit out project or a refurbishment, all too often, the office canteen (kitchen, cafe, etc.) is overlooked. However, we're firm believers that this part of the workplace should never be left as an afterthought in the strategic development of any design scheme.
We believe that the office canteen holds as much power and potential as things like meeting rooms, breakout spaces and training areas in fostering an ecosystem of work settings that are holistic, inclusive and effective in attracting and retaining top talent.
Why a well-designed office canteen is so important
A well-designed office canteen is about more than just what the space looks like, the colour of the taps and how cool the fridge looks. Of course, these things matter too—however, there's more to a workplace kitchen and canteen than aesthetics.
So, why is the office canteen such a powerhouse of potential when it comes to important things like productivity, staff retention and collaboration?
Keep reading for the main reasons why carefully considering how you design and fit out your office canteen is so crucial.
Encouraging regular breaks
Regular breaks throughout the day are vital. Moving away from the screen or away from the task being worked on at various points is essential if employees are going to maintain focus, creativity and motivation. Not taking regular breaks can cause all of these things to dwindle, hindering productivity and overall morale.
Providing somewhere—a well-designed office canteen—employees can physically move to to take purposeful time away from screens, projects or teammates they're interacting with regularly is the ideal way to encourage and facilitate these imperative breaks.
Taking regular breaks also has a positive, knock-on impact on other things like combatting tech neck and supporting less sedentary behaviour.
Socialisation and community
Without the right spaces to appeal to employees, it can become easy for teams, or even individuals, to work in silos and only form meaningful relationships with those in close physical proximity.
Having a communal space, like an office canteen, breaks down team-based barriers and organisational hierarchy, encouraging more cross-communication and a richer sense of culture and belonging. As we know, these company qualities are pivotal for staff wellbeing, performance and retention.
Informal collaboration
You won't need us to tell you that sometimes, the best ideas or solutions come from spontaneous, casual conversations. Canteens and workplace cafes are the ideal environments for this type of fruitful, unplanned interaction and touchdown work.
Improved workplace hygiene
Another great benefit of having a well-designed office canteen is that people are less likely to eat at their desks. With a dedicated space to prepare food and eat, the wider workspace will remain more hygienic and be easier to keep clean and free of germs.
Things to include an office canteen fit out
As one of the preferred office fit out companies in Manchester, Liverpool and other parts of the north west, we're well-versed in what it takes to master the art of modern canteen/kitchen design.
We'd always recommend working with a fit out or refurbishment partner to make the most of your workspace (and budget) but in the meantime, here are three top tips on things to include in your office canteen design scheme.
Multi-functional, multi-height furniture
Traditionally, an office canteen was just a place employees went to eat and drink during a standard lunch hour before heading back to their assigned desk. Today, people move far more flexibly around a workspace, using various different rooms and settings in a far more multi-purpose way. That's why, for modern office canteens, we recommend multi-functional furniture designed for a diverse range of heights and uses.
Incorporate some soft, low seating around lower coffee tables, for example, alongside higher bar stools and classic dining-style tables and chairs. Booth seating and benching are also great options in an office canteen where people like to gather in groups to eat, unwind and socialise.
Word to the wise: just make sure any materials, fabrics and colours you opt for lend themselves to low maintenance and easy cleaning—canteens and kitchens naturally always come with a higher risk of spillages, stains and damage.
Don't forget about integrated technology
For an office canteen to be truly multi-functional and a space employees gravitate towards, it needs to be well-equipped with technology, power and internet connection. This includes plenty of plug sockets where people can charge up their devices and work in an agile, nomadic manner, moving around the workspace in a way that meets their needs.
We'd also recommend including tech elements like TV screens and speaker sound systems. These technological touches will help make the space more appealing for relaxation, rejuvenation and socialising and will also ensure it is well set up for internal and external events or gatherings.
An office bar, maybe?
We've explored whether an office bar is a novelty concept or a valuable addition before. Our belief is that, with considered, strategic design and configuration, an in-house bar can bring a multitude of benefits to a workplace. So, if your square meterage and budget allow, we'd certainly recommend considering a bar area as part of your office canteen design.
An office bar is not only a great addition for bolstering company culture, encouraging socialisation and internal gatherings, it's also super handy when it comes to hosting external events too. Venue hire can be extremely expensive, especially if you need a bar—having your own to hand is an effective way to cut costs on external events and make an impression on guests.
Ready to transform your office canteen into a space that works harder for you and your employees? Get in touch with our experts today!