By Penketh Group Insights Team
Published
13th November 2019
Category
Research & White Papers
Download Report
After months of research, idea-sharing and dropping hints on social media, we're now finally thrilled to launch our brand-new Inclusive Workplaces: The Future of Office Design report in partnership with YouGov. Our findings reveal that an inclusive workplace is now more desirable than social events, free gym memberships and private healthcare.
The 2019 Benefits and Trends survey carried out by Aon revealed that nearly all (97%) of employers believe that expectations around employee experience are changing. This, when placed alongside Gallup's finding that only 15% of the workforce are currently engaged, proves that we're at a crucial turning point in modern workplace design and culture.

At Penketh Group, we are committed to putting research and knowledge at the heart of everything we do. As a company which stays ahead of the curve and atop of trends, we have a keen eye for shifts within the commercial design industry. When we spot something that is creating waves, we make it our mission to investigate further and report our findings.
The latest trend identified by our team of experts is the growing importance of inclusive workplace design and culture for offices of the future.

More than just a trend or box-ticking exercise
An inclusive workplace is one which goes beyond the call of Health & Safety requirements and WELL standards by combining legal and moral obligations to facilitate an increasingly divergent workforce.
As part of our research, we partnered with global public opinion and data company, YouGov. We conducted a survey of more than 900 employees to gain insight into how inclusive the country's workplaces currently are.

We also wanted to research and understand how future generations of workers would like to see offices develop in the coming years in order to help our customers engage existing employees, attract new talent and benefit the bottom line.
A few of our key findings
Here is just a handful of the results which came back from our survey of UK office workers: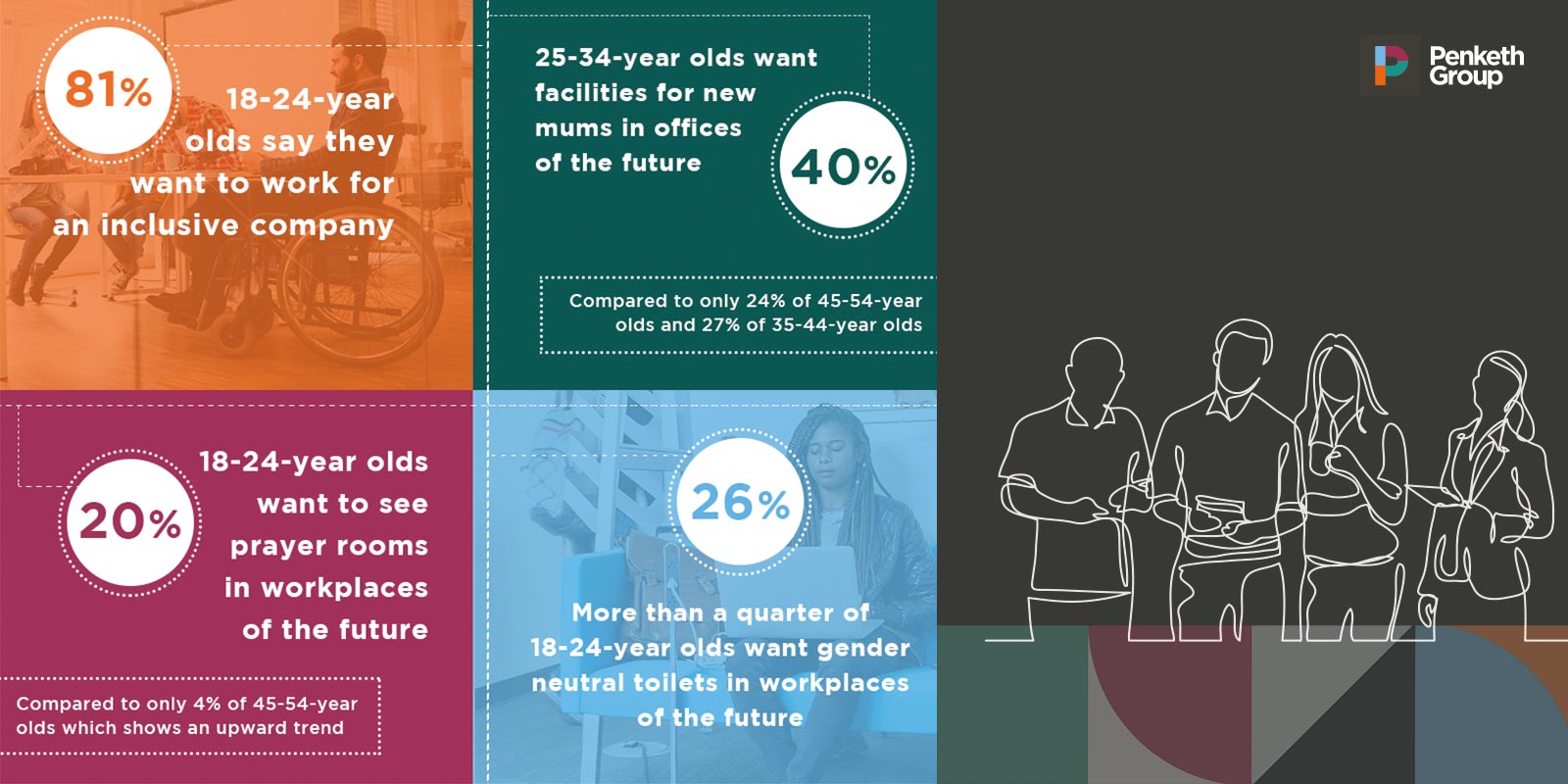 Chris Birchall, Penketh Group Workplace Strategist, said:
"We've certainly noticed clients now picking up on more workplace issue which lead back to inclusivity – even if they can't explicitly name or identify that that's what it is they're referring to. It just goes to show that businesses are becoming more aware of the need to provide for staff from all different walks of life and the benefits this brings about. […] inclusive design isn't just a trend – it's going to be more of a pivotal movement in the industry going forward."
It's time to re-engage the modern workforce and it seems, an inclusive workplace is the key.
Download the full report or get in touch to request your very own personal pocket guide by emailing marketing@penkethgroup.com or tweeting us @PenkethGroup.